Welcome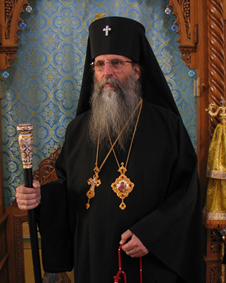 May God's blessing be upon you.
I am pleased to welcome one and all to "TrueOrthodoxy.Org", the new polemical website containing the truth about the various false religions, heresies, and schisms. We have created this website for the spiritual edification and protection of faithful Orthodox Christians, and for all who desire to live according to the perfect and holy Faith of the Orthodox Church. The need for such a database of information has never been greater as, in our age, the pernicious spirit of ecumenism ever more zealously strives to falsify the real and spiritually-vital distinction between the true faith given by God for all men and the false doctrines which God did not originate.
Today there are over 26,000 communities calling themselves by the name of Christ and claiming to be His Church, to hold to His Gospel, to possess the way of salvation; however, they all disagree on what the truth of Christ is, and so we have Orthodox, Roman Catholics, Old Catholics, Monophysites, Nestorians, Calvinists, Lutherans, Zwinglian-(Ana)Baptists, Charismatic-Pentecostals, Presbyterians, Anglican-Episcopalians, Free-Churchers, Campbellites, Swedenborgians, Messianic Jews, and innumerable others, each taking their name from the doctrine that sets them apart from the others. So they are divided by their differing doctrines, and no one of them can simply say the other is of the same faith as himself without qualification. Yet, the Church that Christ founded was one [Eph. 4:4-6], which He said would never die out [Matt. 16:18], and He only gave one Gospel [Gal. 1:6-12]. So necessarily only one of the above is that one Church and has that one Gospel in its integral wholeness.
It is not God's will that His Church be divided, but that the unity of the Faith remain strong and one. The Apostle Paul tells us, though, that there will be divisions or schisms. The list of schismatics presented here are only some groups among those who call themselves Orthodox. If they have separated themselves from the Church, we do not condemn them by listing them here. Only God can condemn. He is the final judge. If they are listed here, it is our duty to state why they are not with us. This is our goal, and we leave them all to the judgment of God.
By reading the following articles, anyone earnestly seeking that one original Church and Gospel may readily comprehend who it is who has kept "the Faith once for all delivered to the saints" [Jude 3] and who they are who have departed, and everyone may make his own decision accordingly - to be of the Church that Christ founded with the Gospel that Christ gave, or to be "walking according to man" [1 Cor. 3:3], as the Apostle says. Be sober, be watchful, be zealous for your soul, dear reader, for Saint John says, "... what ye heard from the beginning, let it keep on abiding in you. If what ye heard from the beginning should abide in you, ye also shall abide in the Son and in the Father" [1 Jn. 2:24]. If anyone desires to research the question more in depth than we have covered it in these introductory articles, then numerous supplementary, specialized studies are also available on this same site.
For the person who desires authentic instruction in the Orthodox Faith, we suggest www.TrueOrthodoxy.Info as a source of catechetical and other edifying material sufficient for initiating one into Orthodoxy.
We also include herein valuable discussions of the non-Christian religions, clearly pointing out their falsehoods and their invalidity as paths to salvation.
In Christ, the Truth, the Way and the Life of all,
+ Archbishop Gregory
---
Archbishop Gregory
Dormition Skete
P.O. Box 3177
Buena Vista, CO 81211-3177
USA
Copyright 2005
All rights reserved.