Ascetical Exhortations
By St. Ephraim the Syrian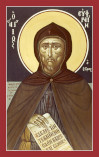 1st Exhortation [To Ascetics]
Glory to you, O God, glory to you. And again I shall say, Glory to you, O God, praised and exalted above all forever.
We should, at every moment, beloved, thank God, who has granted us to come under his good yoke and has delivered us from things passing and corruptible. I want to serve words which grace has enlightened my mind to speak. But I do not want to speak with sophisticated words, being myself an uneducated and undistinguished person. Moreover things which are said with sophistication are not clear to everyone, and particularly to those who have had no part of worldly philosophy. Therefore I must offer a clear discourse, which those who hear can understand, according to the blessed Apostle, If then I do not know the meaning of the sound, I shall be a foreigner to the one who is talking to me and the one who is talking to me will be a foreigner to me. The spiritual discourse can persuade those who are subjects of the faith, even if it is lacking learning and polish. But blessed is God who grants all things to all men and enlightens each according to his advantage. I am not unaware that this is above my measure; but it is written, There is a time to be silent and a time to speak.
What defence then shall we have on the day of judgement if we have not helped according to our ability those who are weary through inexperience, and especially at the present moment, when they are also storm-tossed by bad teaching and lawless advice? For the bloodthirsty lion and enemy of truth does not cease to deceive those who do not take great care, for he does not wish to devour men's flesh but he strives to cast their souls into Hell. How many are there do you think who after their retreat he has subjected again with dishonourable passions? How many after they have been conformed to the brotherhood has he not turned into deserters and made strangers to their habit? Therefore it is necessary not to turn aside, but brother helped by brother, they stand not trapped by the snares of the Devil. We speak following the Apostle; for of ourselves we are not adequate to reckon anything as of ourselves, but our adequacy is from God, who has made us adequate, unworthy though we are, to serve him. May the Lord give you, who receive this discourse, like the good earth, to render perfect and abundant fruit in justice to Christ our Saviour; to whom be glory to the ages. Amen.
2nd Exhortation. An invitation to right conduct.
Beloved, are you a Christian through God's grace? Keep the commandments of our Lord Jesus Christ; for it is written, In truth I understand that God is no respecter of persons, but in every nation one who fears him and works justice is acceptable to him. But if you wish to walk the strict way of life of the monks so that you may meet with greater things, unless you fix in your thought that you have already passed over from this life and consider that this world and its glory are as a tent that has been struck, you cannot conquer the earthly passions and worldly desires which overwhelm people to the ruin and destruction of the flesh; for he is without deception who said, If any one wishes to come after me, let him deny himself and take up his cross and follow me. For he who wishes to find his soul will lose it; but he who loses it for my sake will find it. For what advantage will someone have if he gain the whole world but pay the price of his life? For the toil is not to lay the foundation but to complete the building. For the higher the building is erected, so much greater is the toil given to the builder until the completion of the work. Let us listen to the voice of the Saviour when he says, Which of you wishing to build a tower does not first sit down and reckon the expense, whether he has the necessary? Lest perchance when he has laid the foundation and is not able to finish, all those who see him will start to mock him and say, This man started to build, and was unable to finish.
A soldier's war is short, but that of the monk lasts until his departure to the Lord. Because of this it is necessary to make a start in the work with all fervour, vigilance and endurance. If then, beloved, you would try to slay a lion, take it by ambush, lest it crush your bones like an earthenware vessel. If you fall into the sea, do not give up until you reach the dry land, lest you go down to the deep like a stone. My brother, if you wish to compete, be vigilant, lest the opponent win the victory and exult over you, and you, instead of a crown, receive the opposite. Everyone who wants to become a monk has this in readiness, to endure nobly, lest perchance when he enters he may say, I didn't know that I would have to undergo all this.
See, all this has been told you in advance, that you too may strengthen your resolve, knowing that by this your testing will appear. Understand what is said, beloved, lest to-day, when you stand at the threshold and when asked say I can endure all this, and tomorrow you beg to be excused in both words and deeds; for the Angels of God are standing by and listening to everything that comes from your lips. See, beloved, no one is forcing you, and if you truly submit, do not lie, because the Lord will destroy all those who speak lies.
These are the things which befall someone who approaches God: first temptation, then tribulation, then toil, despondency, nakedness, sufferings, anguish, contempt; in these the endurance and testing of believers is manifested; and in all these the person who gives himself wholeheartedly to God's direction, and submits to his will, triumphs completely. For God only asks of us a perfect intention, and he himself will give us the strength and grant us the victory; as it is written, He is the champion of all who hope in him. And again he says, The Lord is near to all who call upon him in truth. He will do the will of those who fear him and will listen to their supplication and will save them. Pray for us, I beg you, that the Lord will grant us to do blamelessly what we are about to say. For we do not give advice as though we had reached these measures, but let us call on the Lord Jesus Christ the giver and bestower of words as we begin to unfold the word, so that we may both be profited and give profit. If those who are called apothecaries diligently searched for roots and species of plants and have committed them to writing, and this shows better God's dispensation for the comfort of those who are sick according to the flesh, is it not much more incumbent on us to reveal the treasure of the grace according to his gift? For the wicked slave did not escape punishment by hiding his lord's talent through laziness. Who does not groan over me, who bear the name of monk as a sham? Who will not weep for me, who have lost my devotion and my endurance? And what shall I do when my Master Christ visits me? And so I beg, beloved, intercede for me the unprofitable servant, that I may be delivered from the present wicked age, and his grace will open my lips to sing the glory of the holy, consubstantial Trinity, Father and Son and Holy Spirit; because we and our words are in his hand; for it is he who teaches man knowledge. To him be glory to the ages. Amen.
3rd Exhortation. To Novice Ascetics.
Beloved, if, having renounced life, you have entered among the brothers and come to dwell in a coenobitic community of brothers and wish to live with them and to serve our Lord Jesus Christ, and you see some of the brothers behaving in a disorderly way or talking of things which are not pleasing to God, pay no attention to them or their words, and leave them to talk to themselves. For people who talk of things that do not please God do not fear the Lord but pass their time in indifference; their mouth always talks proud things at every moment. You, though, keep God before your eyes. For it is written in a Psalm, I saw the Lord before me always, because he is at my right hand, so that I may not be shaken. And let not the dread Serpent teach you to say 'If the elders themselves behave wickedly, what shall I do, who am a youngster?'But listen to the Lord when he says, Many are called, few are chosen. Therefore love to be saved, that you may be one of the elect. For those who act evilly, whether in a coenobitic community or in whatever place, they are the sons of the Evil One, they are likened to the tares among the corn. Become corn then, that you may be gathered into the Lord's barns and not a tare burned up by unquenchable fire. But neither let us judge anyone, because we do not know how he lives in his cell, or what toil he has towards God. Nor if we see some one laughing or talking, because we do not know how he behaves in his cell, or what toil he has towards God. And so it is necessary for each of us to pay attention to himself, because each of us will give an account of himself to God.
Pay attention with all your heart to the psalmody and to the reading of the divine Scriptures, and drink together the fatness which comes from them in your soul, like an infant sucking the breast; for from them you may learn the prizes of the virtues, and there will be joy and gladness for your heart.
Be meek and obedient and prudent. Meek, so that if you are compelled to serve a child, you will follow him and perform the work; keeping silence return to your cell, keeping silence with your lips, but praying in your heart. Be obedient, that you may preserve the purity of your body in the Lord like a precious pearl. Do not beautify yourself by your clothing, and do not be conceited because of wealthy parents; for he that boasts, let him boast in the Lord. Because all flesh is grass, and all the glory of mankind as the flower of the grass. The grass withered, and its flower failed; but the word of the Lord endures for ever. Keep your eye below, but your soul above. Do not be familiar with a boy; with a woman, it is too obvious to mention it. Do not have long conversations with a youth; do not associate with drunkards, or the disorderly or buffoons; but be all day in fear of God, as he says in the Apostle, Walk in wisdom, making the most of the time, because the days are evil. Do not be foolish, but understand the will of the Lord. Do not get drunk with wine, for in that is debauchery. And again, So that the opponent will be routed, having nothing bad to say of you.
4th Exhortation
Beloved, see I am putting before another instruction in the Lord; if you keep it, afterwards he will reward you with gladness. If having renounced the life of vanity you have entered a coenobitic community of numerous brothers in your wish to become a monk, do not let the Enemy deceive you to leave the coenobitic community before you have taken the holy habit of the monk. Do not do so finally. You will bitterly repent of it; but endure, setting good beginnings with all humility.
Do not quail before the temptations that will come against you from the Enemy, but endure, that you may earn the beatitude. For it is written, Blessed is the man who endures temptation, because when he has been tried he will receive the crown of life, which the Lord has promised to those who love him. You wish not to be mastered by temptation? Cut off your every wish. If you think that some action is good, while to your superior in the Lord it is judged not to be good, obey him in the Lord; for love of contention and following out one's own idea is a sign of disaster. For a beginner who is also disobedient acquires for himself a contemptible name. For it says in the Psalm, Serve the Lord with fear and be glad with him in trembling; accept correction, lest the Lord be angered and you perish from the just way. Moreover one who loves justice will not perish; while one who hates correction, damages himself. Just as wine and vinegar cannot be put into an earthenware jar, so the virtue of the monastic life cannot live alongside lack of correction. And let the Apostle persuade you when he says, What agreement is there between Christ and Beliar? Or what in common between light and darkness? But love temperance to the highest degree, that the Spirit of God may dwell in you. And you are granted the habit of the monastic life, do not then acquiesce in thoughts if they wish to separate you from the brotherhood, lest from your youth you learn to be a wanderer and unsettled. See that you do not lose the devotion which you had on entering, but hold fast to it to the end. Evil speech or swearing, let them not be named on your lips, as befits saints; but be someone who has humility. In every answer let there be 'Forgive me', that you may eradicate from yourself the useless manners of the world, and having lived a life pleasing to the Lord you will receive praise from him. When you come to the monastic life you do not need gold or silver or raiment; but having put heaven before everything, according to the commandment of our Saviour Jesus Christ, acquire these for yourself: faith, self-mastery, endurance and humility and the rest, which God will give you out of his goodness. To him be glory to the ages of ages. Amen.
5th Exhortation. To Novice Ascetics. [Against haughtiness.]
If someone comes to be a monk from an exalted station in life, let him guard himself from the demon of haughtiness, lest he fall into the spirit of pride and disobedience and harm himself. Beloved, it is no shame for, if you are a subject in the Lord, nor if you work at what is good with your own hands; for the little distress and tribulation that you endure for the Lord becomes for you the cause of eternal life. And what more should I say? For like the person who changed a drachma into ten thousand talents of gold, so is every distress of the monastic life to the coming tribulation, which meets those who do ill. You then bring small things, and great ones are given you. Be vigilant then, beloved, like a good soldier. Do not neglect the gift which is in you, lest both things should come upon you: both to grieve human beings, that is your parents according to the flesh, and not to please God. But struggle, that those who see you may glorify God at your good way of life. For it is written, Those who fear the Lord will see me and be glad. And again, There is much peace for those who love your law, and there is no stumbling block for them. And so guard yourself from haughtiness, and the Lord will be your portion. To him be glory to the ages. Amen.
6th Exhortation
Beloved, if you make good beginnings, so you will also complete your old age so as to be well pleasing, and you will be a beacon lighting many on the way of the Lord. While if you go from the womb wicked, you will live as regards yourself wickedly. Lay a sure foundation then, that your work may rise to the heights. Above all, brother, fear God and glorify him with your whole heart, that he too may glorify you with his saints. From your youth take up the meekest wisdom, not letting go of it until your last breath; for it will lead you onto paths of justice, and you will be a vessel of election from your youth, and make your old age honoured, and you will have praise from God, and men will magnify the Lord in you.
If then you are assigned by the abbot as subordinate of a brother, do not allow yourself to say in your thought: I am the child of important and distinguished parents, while he is the son of uncultured and poor ones, or that he has often been brought out of slavery; how can I be subordinate to him? It would be a insult for me to do this. Do not think thus, beloved; for you would not be thinking about him with wisdom. For one who thinks such things has not yet put off the old man, who is perishing according to the desires of deception. While we, beloved, because we are dedicated by God to brothers united in soul for service, let us endure, so that we may be worthy of the freedom of the just, as we consider the Master of all things, who made himself a poor for our sakes, though he was rich, that he might make us rich by his poverty.
Beloved, place your neck beneath his yoke, that you may find rest for your soul; because it is written, Every one who is puffed up is unclean before the Lord. To him be glory to the ages of ages. Amen.
7th Exhortation. To Novices. [On the manual work of monks]
And do not be depressed about your manual work. For frequently the thought will come to you that 'You will never be able to master this manual work; for you are weak and depressed, and you will never be able to endure the misery of this work. For see how your limbs begin to suffer from toil; for you have not been used to exertion. But go on, travel back to where you came from; for there, it says, if you wish to fear God, you may be saved'. You though, as faithful, do not be weakened by such thoughts, but endure for the Lord who has called you to his kingdom and his joy. For he has said, Amen, Amen, I say to you, if you have faith as a grain of mustard seed, you will say to this mountain, 'Be moved'; and it will be moved; and nothing will be impossible for you. Let us then also endure, beloved; for we have not hoped in man who is unable to save, but in God who saves those who hope in him. As it is written, Those who trust in the Lord, are as Mount Sion. And the Holy Spirit calls blessed those who hope in the Lord when he says, Lord, God of powers, blessed is the one who hopes in you.
Hold fast then, beloved of the Lord. If you learned letters, did you not endure the drudgery? And if you learned a craft in the world, did you not endure the toil? Is it not far more incumbent upon us to endure all things for the Lord? For it is written, You will eat the toils of your fruits. Blessed are you, and it will be well with you. And the Apostle encourages us when he says, Work the good with your own hands, so that not only may he that works eat of it, but that he may share with one who has need the fruit of his own toils.
Let there then be eagerness by all of us to be delivered from our sins; for if we wish, we may be delivered. For he has said, Ask and it will be given you; every one who asks receives, and who seeks finds, to one knocks it will be opened. For it is he who has given the world the inexhaustible treasure of repentance. To him be glory to the ages. Amen.
8th Exhortation
About the scandals which occur, we know one who said, Judge not, and you will not be judged; by the judgement with which you judge, you will be judged; and by the measure with which you measure, it will be measured out to you in turn. That you may have help in this thought, consider that the just Lot dwelt in Sodom, but was not led away with their pride and licentiousness; and so he was saved, as it is written, For that just man, living among them day after day, was tormented in his just soul by their lawless deeds. But he adds something when he says, The Lord knows how to deliver the godly from trials, and to keep the unjust under punishment until the day of judgement and so forth. So it is not a question of self-mastery and meekness to-day, and dissoluteness and pride to-morrow. Of stillness, vigil and humility to-day, and temptations, immoderate sleep and disobedience and suchlike things to-morrow. Of renunciation of the world, renunciation of earthly affairs, renunciation of fatherland and friends and parents according to the flesh to-day because of hope in the Lord, and tomorrow let us seek country and fatherland and inheritance, to sink ourselves in many evils. For Lot's wife turned back and became a pillar of salt. And so the Lord also teaches when he says, No one who puts his hand to the plough and turns back is fit for the kingdom of heaven. So always keep in mind that day on which, when you had put everything aside, you left the world for the Lord's sake, and when you were fired by the fear of God, and fervent in spirit for the Lord. And keep the goal until the end, for the one who endures to the end will be saved, that you may receive the reward of your work with eternal life; because you have approached the true God and despised all things that you may gain Christ, to whom be glory to the ages. Amen.
9th Exhortation. On obedience.
Another title: On perseverance and endurance [Thwaites]
And do not be discouraged about time; for the Foe suggests to some the desire for the habit at the wrong moment, so that the brother, unable to bear the smoothness of the pleasure, may flee the stadium. But you, beloved, as you are keen to please God, persevere; as the Apostle says, If you can become free, make use of it. Look at the ancient generations and see that all the saints acquired the promises through perseverance and endurance. Let us encourage ourselves then each day, so that we may be found as their fellow heirs in the kingdom of heaven. First, did not the patriarch Jacob serve Laban the Syrian in Mesopotamia for fourteen years for the sake of Rachel, in the heat of the day and the cold of the night? Joseph, the beloved, too likewise was he not a slave in a foreign land for many years? For it is written: And Joseph was seventeen, shepherding the sheep with his brothers. And again it says: And Joseph was thirty when he stood before Pharao. Moses likewise, the Lord's servant, dwelt as a stranger in the land of Madian for forty years. And the sons of Israel after forty years entered the promised land. Likewise Daniel, the virtuous man, with the three youths also, who turned the furnace to dew through faith, endured slavery and tribulations and calumnies in a foreign land, and so they were saved. While we cannot endure an insignificant distress. Because we do not believe, endurance is far from us. For you have so given yourself to grief, as though you had lost someone else's deposit, as though you had gone to prison. Give yourself eagerness in the Lord, and play the man as one to be trusted, lest you lose the toils of your soul from much grieving, and feel regret at the last. Consider, beloved, those being tested in exile and the mines, in bitter slavery and be obedient to your superior in the Lord. If you rather consider the slavery, which you endure for the Lord's sake, in human terms, who, if he had ever been dishonoured on the king's behalf, would not rather think of the insult as a cause for pride? But time after time you are on the point of saying: This action requires toil. Alas for a sinner and unprofitable servant! If we do not choose to endure toil for the Lord's sake, why then have we left the world? Beloved, who is worthy and blest to suffer on behalf of him who suffered for him? You provide little, beloved, and you gain much; while we need endurance, so that, when we have done God's will, we may obtain his promise. For the one who endures to the end is the one who will be saved.
10th Exhortation
My brother, do not lose heart at the thoughts which attack you; for it is the beginning of the contest. Learn from a rain lake, because when it rains and the blessing of water is collected in the lake, in the beginning the water is troubled; but as time goes on it becomes more limpid. So, beloved, do not lose heart, for it is written, Streams of iniquity troubled me. And in another psalm it says, For my soul has been filled with evils, and my life has drawn near to hell. And so it says, The Lord is my help, and I shall not fear what man will do to me. Therefore whenever an evil thought enters your mind, cry out with tears to the Lord, 'Lord, be merciful to me, a sinner, and pardon me, O lover of mankind. Lord, take to Evil One from us'. For God knows the heart, and he knows the thoughts which come from a bad intention; and he also knows the ones that attack us from the bitter cruelty of the demons. Understand this, that the more you struggle and endure in serving the Lord, so much your mind and thoughts become limpid. For our Lord Jesus Christ has said, Every branch in me which [does not] bear<s> fruit, I prune it, that it may bear more fruit. Only want to be saved; because the Lord loves and co-operates with those who are pressing forward to find salvation. Listen to a parable against base thoughts. The grape, when it is cut from the vine and cast into the press and trampled down and yields its wine, to begin with the wine bubbles up so much as though it were being boiled by a ferocious heat; so that open vats, unable to bear the violence, break under the strain; so it is with human thoughts, whenever they pass over from this vain world and its care to things of heaven. For the demons, unable to bear the zeal, trouble the human mind in varied ways, as they wish to engineer for it a turbid overthrow; so that <if> they find a ready vessel, that is an unfaithful and doubting soul, they will rend it. For the demons are ravening wolves, who go round the cells of the monks looking for an open door for them, so that when they have got inside they may destroy a soul which obeys them. But if they find the door shut in their faces, they go away extremely disappointed; I am speaking of a soul which is firmly founded on faith.
Do not be a coward then, and do not fear their wickedness; they cannot harm you, who have Christ as your helper. For the Apostle says, For God did not give a spirit of cowardice, but rather a spirit of power and love and self-discipline. And again <the> Lord said to his disciples, I saw Satan as lightning falling from heaven. See, I have given you authority to trample on snakes and scorpions, and upon every power of the foe, and nothing at all will hurt you. And so, beloved, play the man and be strong in God, for his mercy endures for ever. But if they bring us the memory of our parents according to the flesh, let us say to them, 'It is written he lays up treasure, and does not know for whom he will gather it. And again, The fool and the senseless will perish together and leave their wealth to strangers; so offences are for me, money for another. This is no good for me, it is a great evil! And so we have not been taught to amass treasure on earth, where moth and rust destroy, and thieves dig through and steal. Where your treasure is, there, he says, your heart will be also. Blessed is God who gives us strength against our invisible foes. To him be glory to the ages of ages. Amen.
---
All texts and translations on this page are copyright to Archimandrite Ephrem ©
Taken from his website: http://web.ukonline.co.uk
which has subsequently been changed to: http://www.anastasis.org.uk
---
Archbishop Gregory
Dormition Skete
P.O. Box 3177
Buena Vista, CO 81211-3177
USA
Copyright 2005
All rights reserved.