Letters of Elder Macarius of Optina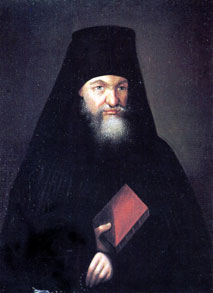 Introduction
Elder Macarius of Optina was canonized by the Russian Church Abroad in 1990, together with the other Elders of Optina. St. Macarius' views were, in the words of Helen Kontzevitch, "Optina Views". As such, his letters can very much be read as part of the spiritual legacy of Optina Monastery.
Optina was in many ways the spiritual center of Holy Russia in its last years. Pilgrims travelled from across the empire to receive counsel from the revered Elders of Optina, who in their simple humility and deep spiritual insight echoed the wisdom of the desert fathers of centuries past. In reading their writings, we are drinking from the same font of spiritual wisdom as has nourished Christians for centuries.
The recently departed Fr. Nektary of Jerusalem, of blessed memory, saw a special need for Christians of our time to study the teachings of the Elders of Optina. The humble and sober spiritual instructions contained in the letters of Elder Macarius would seem to be of particular help to us, who are so easily inclined to delusions of grandeur.
I.M. Kontzevitch has written an introduction to the letters of Elder Macarius which can be read for further preparation for the study of the Elder's letters.
Contents
I. Blessed are the poor in spirit: for theirs is the kingdom of Heaven
II. Blessed are they that mourn: for they shall be comforted
III. Blessed are the meek: for they shall inherit the earth
IV. Blessed are they which do hunger and thirst after righteousness: for they shall be filled
V. Blessed are the merciful: for they shall obtain mercy
VI. Blessed are the pure in heart: for they shall see God
VII. Blessed are the peacemakers: for they shall be called the children of God
VIII. Blessed are they who are persecuted for righteousness sake: for theirs is the kingdom of Heaven
---
From the Website of:
St. Vladimir's Russian Orthodox Cathedral
6824 128 Ave. NW Edmonton, Alberta, Canada.
http://www.stvladimirs.ca
---
Archbishop Gregory
Dormition Skete
P.O. Box 3177
Buena Vista, CO 81211-3177
USA
Copyright 2005
All rights reserved.