Home>North America>Life of AB Gregory
Chapter 31: Another Trip Back East and "The Bomb"
About this time an OCA priest, Fr. Kentigern, contacted Fr. Gregory and wished to convert to the Russian Church Abroad. Since he was not properly baptized, Bishop Alypy suggested that Fr. Gregory drive this priest back to New York City so that Metropolitan Philaret could meet him and make a decision on how to receive him.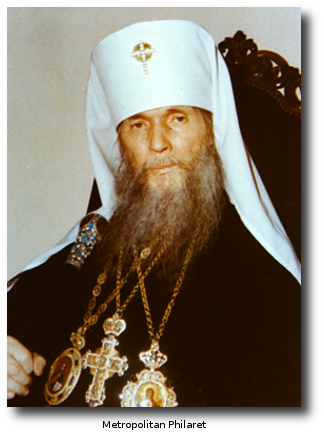 Father Gregory drove this priest to meet Metropolitan Philaret, who decided to baptize him and then ordain him. This man was recuperating from an operation on his stomach, and the physicians told him to drink milk for a certain period of time. This whole trip took place during the fast of the Nativity of Christ, and there was no question or hesitation in keeping this man's milk in the refrigerator at the Synod headquarters while he was there.
After his business was completed in New York City, he requested to travel to Boston to visit the monastery. Father Gregory agreed because this would be an occasion to visit his family. Father Gregory drove the priest to the monastery and left him there. He explained that he could not accompany him into the monastery, and that he should explain to the abbot that he had just come from meeting Metropolitan Philaret and wished to visit for two days. Father Gregory then drove to his brother's home. No sooner had he arrived there, when he received a phone call from Fr. Kentigern informing him that Fr. Panteleimon had asked him to leave because he did not want to keep his milk in one of the monastery's refrigerators! It should be noted that this monastery feeds 40 people each day and that their refrigerator capacity is enormous. No matter what anybody could say to the abbot, he would not change his mind. Father Gregory had to return all the way back to the monastery and bring the priest to Richard's home.
This man was quite hurt and scandalized, and it made a very unpleasant impression upon Richard and his family. Richard wanted to do something to show the monastery clergy how unchristian they were acting by showing absolutely no hospitality. Father Gregory tried to defuse the incident as much as possible, not only because the instigators were clergy of his Church, but also because he did not want the priest to lose his zeal for the Church.
He told his brother, "The best thing you can do is to send them a gift on an appropriate occasion, such as a fruit basket, as the Gospel says, 'Do good to those who despitefully use you and persecute you,' and that it is always good to cover up someone's shortcomings or sins." Father Gregory's brother sent a big fruit basket to the monastery as a present on the feast of the Nativity. The only regrettable thing was the little letter that he sent with the fruit basket. In this handwritten note, Richard lamented the lack of love shown to the priest who had visited the monastery weeks earlier and added, "I personally believe that Fr. Gregory tries to cover your sins as much as you try to cover them up," meaning thereby the sin of not showing hospitality.
When Fr. Panteleimon read this letter, he must have imagined something other than what the simple intent of the letter was aimed at. It prompted him to withdraw to his skete in Maine and seclude himself for one month to write what the monks at the monastery referred to as "The Bomb." They knew that their abbot had dedicated a great effort to write this letter, and it was reported as such by a number of those monks who subsequently left that monastery. The Bomb was a 17-page single-spaced, 16,000-word slander letter.
This Bomb was completed and sent to Richard from Fr. Panteleimon who signed it. Unfortunately, he sent it to every bishop in the Russian Church Abroad, and in fact to many of the priests. Eventually they decided to put it on the internet also, for the intent of the Bomb was to destroy Fr. Gregory and Dormition Skete. It characterizes Fr. Gregory as "proud, disobedient, self-willed, indiscreet, silly, stupid, elder-playing, spiritually immature, inept, irresponsible, stubborn, nagging, threatening, a source of embarrassment, naive, senseless, jealous, self-righteous and in prelest." In a word, everything that a monk should not be. The only thing Fr. Panteleimon did not accuse him of was immorality. Unfortunately, the devil had his way with this document, for being widely distributed, it has become the criterion for those who have never met Fr. Gregory in judging him as a person with an unsavory character. It has caused no little amount of confusion for many people who are seeking true Orthodox leaders.
What effect did this letter have on the bishops? Bishop Alypy told Fr. Gregory that as soon as he received this little book and saw what it was he threw it in the trash. Father Gregory wanted to reply with an equally long letter, but Bishop Alypy told him not to bother because these people hate him for leaving them.
---
Archbishop Gregory
Dormition Skete
P.O. Box 3177
Buena Vista, CO 81211-3177
USA

Copyright 2011 - Archbishop Gregory
Last Updated: July 12, 2011