Home>North America>Life of AB Gregory
Chapter 32: Telephone Service and Electricity Come to the Skete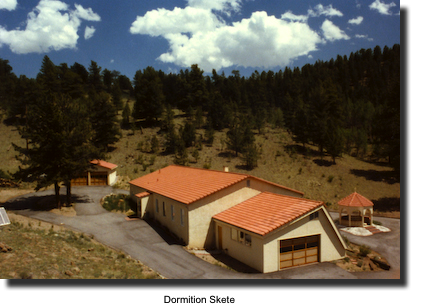 It should be noted that all the buildings constructed at Dormition Skete were erected by Fr. Gregory and those with him, especially his monks.
During the final phase of construction on the main building, a reporter and a photographer from the Denver Post decided to pay Fr. Gregory a visit. The Denver Post is the largest newspaper in the capital city of Denver, Colorado. Somehow they heard of the construction and establishment of an Orthodox monastery in the Rocky Mountains, and they wanted to make a story for their newspaper's religious section. Reporters interviewed Fr. Gregory for about two or three hours and left the skete to attend to other business.
Less than a week later as Fr. Gregory was driving down to Buena Vista to receive his mail and phone messages, the people on the sidewalk were smiling and waving to him. This seemed strange, so he smiled and waved back. Then someone told him laughingly that his picture was on the front page of the Denver Post in color, while President Reagan's picture relating to another story was smaller and a black and white. The newspaper had written a substantial story with many pictures, indeed in all three editions for that day.
In the interview Fr. Gregory gave all the notoriety to his neighbor, Forest Woodland, who had donated the land and helped him in the construction. He believed that this publicity, showing the man's generosity, would be a very good gesture, which indeed it was. It just so happened that another neighbor, Mr. McGowan, received a copy of this article from his wife, just before he was about to go into heart surgery. He was in a major hospital in New York City about to receive a bypass heart procedure. He read the story and began to weep, for as he explained later, he knew Fr. Gregory and could have helped him much more than Mr. Woodland. He immediately made a promise to God that if he came out of surgery successfully he would donate the necessary funds to bring telephone service to the skete. Electricity and telephone service stopped at this man's house about five miles from the skete towards the city.
The operation was successful, and a few weeks later Mr. McGowan drove up to the skete to explain to Fr. Gregory the story with a check for $15,000 in fulfillment of his vow. Mr. Woodland was with him, who was paying his $15,000 to the phone company also, because the total cost for phone service was $30,000. Thirteen years later in 1993, Mr. Woodland decided to sell his property to the CEO of Procter & Gamble, Mr. Brad Butler. This man built a ranch on his property and was not going to live on it without electricity. It cost him $154,000 to bring electricity to his ranch. The monastery was a beneficiary of this project with no hookup fee.
Now the skete had electricity and it was therefore able to build a church as a separate building with a furnace for heat. This church was completed in 1995. Up until then all the buildings were heated by solar and firewood.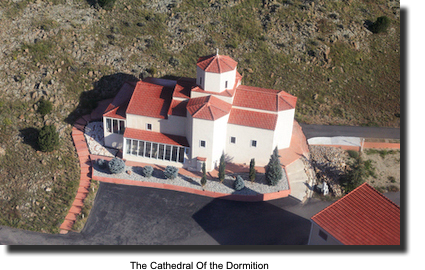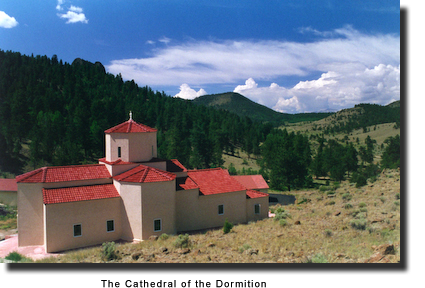 ---
Archbishop Gregory
Dormition Skete
P.O. Box 3177
Buena Vista, CO 81211-3177
USA

Copyright 2011 - Archbishop Gregory
Last Updated: July 12, 2011