Home>North America>Life of AB Gregory
Chapter 8: The Visit to Aegina
After the sojourn at the Pateras house, a whole company of people had arranged to go to the island of Aegina to visit two places: the convent where the relics of St. Nectarios were, and the holy Elder Ieronymos, who was a father gifted with spiritual foreknowledge and a living saint. George would never forget this visit to Aegina, for it was there that he would meet this blessed and ever-memorable father.
Those that had come included the future abbess Maria Pateras, the Nun Martha, a disciple of Papa Nicholas Planas, Basil the iconographer, who came in a wheelchair, along with one of his friends to help him, plus Fr. Panteleimon, and novices John and our George.
The boat left from Athens to the island to Aegina, and from there a taxi drove the pilgrims to the hesycasterion (cell) of Elder Ieronymos and his disciple the nun Evpraxia. Father Ieronymos' fame had gone throughout all of Greece, and even abroad. He was like another St. Seraphim of Sarov in his gift of divine foreknowledge. It is recorded in St. Seraphim's life that people came from very long distances to get his blessing and to hear just a word from him. So it was with the Elder Ieronymos. All who came to him received a necessary, helpful and prophetic word.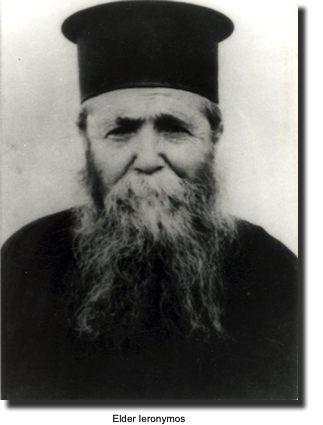 When they arrived, there were already present not a few who had come to seek the elder's advice and prayers. When the young George beheld him, he was amazed at his countenance. He was not a tall man, but he had only one arm. During World War II, they found a German mine in the harbor of Aegina, and they brought the Elder Ieronymos to defuse it because he was knowledgeable in clocks. As he was working on the mine, it exploded in front of him. It should have killed him. The miraculous thing that happened was that only his left arm was blown completely off. He said that this was an answer to his prayers because he felt himself unworthy to celebrate the holy Mysteries. He was awestruck at the greatness of this divine service, so he sought somehow to be freed from it without suffering condemnation, for a priest is ordained to celebrate the Mysteries and must do so on a regular basis according to the rules of the Church. Now, without a left arm, it was impossible for him to celebrate the Mysteries, although he could still bless the people with his right hand.
After the Athenian group received his blessing and words of consolation, the Elder Ieronymos retreated into his cell with the abbess Maria, Fr. Panteleimon and the young novice John. The novice John went in to discuss privately his desire not to return to America, but to remain on Athos. Everybody waited outside for what seemed a long time. Finally the doors opened, and everyone exited. What was noticeable to George was that his abbot was weeping, as can be seen in the photo below.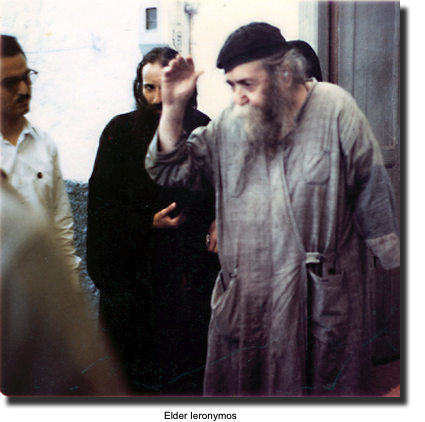 All who were waiting to meet the saint formed a line and approached him one by one. When the iconographer Basil approached, the Elder Ieronymos encouraged him to be patient in his affliction, and he showed him his arm and told him that this was the greatest blessing he had. All present were in reverent silence. There were hopes that through this elder's prayers and through the prayers of St. Nectarios, the young man would find some kind of healing. However, on the contrary, the Elder Ieronymos was encouraging him to be patient. Each person approached to receive his blessing and a word of advice.
At last, the young George approached. When he looked at his face, Elder Ieronymos' eyes were both very bright and joyous, as he looked at the young man. Then he said to him something in Greek. Fr. Panteleimon, who was standing next to him, translated it as, "Who is your elder?" When the young George heard the question, he pointed to Fr. Panteleimon. Then the Elder Ieronymos said something else in Greek. The young George then turned to Fr. Panteleimon for the translation which did not come. Then the Elder Ieronymos said something else in Greek, but Fr. Panteleimon told him to step aside for the next person to come forward. The young George then received his blessing and saw his countenance as very joyous and then stepped aside. Everyone was listening to every word because it was done in the open. Then noticeably, Mother Martha, who was very quiet throughout the trip, befriended the young George and stayed close to him and at every opportunity would offer him water, bread or a sweet, and would constantly smile at him and in a befriending way stay close to him. Mother Martha was the very faithful disciple of Papa Nicholas Planas and, by then, a very old woman. Many say that she also was gifted with special grace.
After they left Elder Ieronymos, they went to venerate the relics of St. Nectarios. There they were able to visit his cell and to sit in the seat where he sat and to recline in the very bed where he reclined. Saint Nectarios is noted by many to be the patron saint of those who are slandered. Little did the young George realize the blessing that he received that day, not only from the Elder Ieronymos, but also from St. Nectarios. Mother Martha, as we said, "befriended" the young George, in stark contrast to the young Fr. Panteleimon, who after the encounter with Elder Ieronymos, wore a downcast countenance and was irritable. Because of this, the young George did not approach him for the rest of the trip, but was content with the solicitous attention of the holy Mother Martha.
That night the young George gathered his courage and then approached Fr. Panteleimon to ask why he was so irritated, and what did Elder Ieronymos say to him that he did not wish to translate? However, he did not do this in a direct way, since he was nervous. Rather, he approached him with caution, in a roundabout way, and said, "Wasn't it a beautiful day today? The weather was nice.... The trip was very rewarding.... It was a great blessing to visit the relics of St. Nectarios and also to visit the Elder Ieronymos," and then, "Oh, by the way, what did the Elder Ieronymos say after he asked, 'Who is your elder?'" Then again Fr. Panteleimon became irritated and in a louder and curt voice, asked, "What kind of thoughts did you have when you approached him?" George then answered, "I don't know what you mean. I had no thoughts, other than thanking God to have met such a person." Father Panteleimon continued, "He asked you, 'Who is your elder?'" "Yes, you translated this," said George, "and I pointed to you. What did he say after that?" Then Fr. Panteleimon said, "He asked, 'Do you know him or do you have him?'" This made the young George think, and he said to him, "Well, if that was the question, I have you." And then he asked him, "Is that all he said?", and Fr. Panteleimon said, hesitantly, "Yes." It was only later that Fr. Panteleimon himself admitted there was more that the elder said, and something quite startling at that. After this response, the young George received his blessing and returned to his room reflecting on the words of Elder Ieronymos, not realizing that there was something further from this man gifted with spiritual foreknowledge.
Throughout the thirteen years of his monasticism in the monastery in Boston, there would be many times where discussion would be brought up about the Elder Ieronymos and what he said to various fathers who had met him, as well as to the young George. And it would be again and again repeated that to George it was said, "Who is your elder?" and "Do you know him or do you have him?" and nothing more.
---
Archbishop Gregory
Dormition Skete
P.O. Box 3177
Buena Vista, CO 81211-3177
USA

Copyright 2011 - Archbishop Gregory
Last Updated: July 12, 2011