Home>North America>Life of AB Gregory
Chapter 7: Athens
After they departed from Mount Athos, they went to Athens where the young George was supposed to learn as much as he could about iconography. He sat next to the iconographer Basil Lepouras and watched him paint. He asked questions, but the Greek translator was John, the young novice, whose Greek was not good at that time. Consequently he learned mostly by observing this iconographer work.
He sat next to him throughout most of the day for one week. He did not pick up a brush during that time, but only watched. Actually, all that was necessary was for George to learn how to mix the egg tempera with red wine vinegar, which was quickly grasped.
The other days were watching the young man Basil struggle to paint. His disease had also hampered movement in his elbow. He was a courageous person. He never complained, and even gave thanks to God. He could not move his body from his waist down and his movement from his shoulders was also almost nonexistent. He put his elbows on the table where his painting would be and would slide his hands to pick up paint and to execute the painting. His hands were quite normal, and the icons he produced were very beautiful. Photios Kontoglou, the great iconographer, visited him in the past and showed him the basics, and then came back and commented that "his icons would be very good and very spiritual because of the great hardship that this young man was enduring."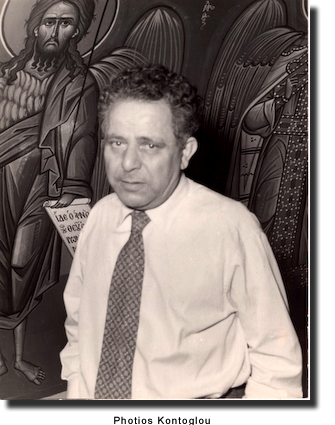 While in Athens, Fr. Panteleimon and George stayed in the home of Mrs. Maria Pateras, who with her late husband Xenophon had been among the foremost shipping magnates of Greece. They were also very pious, something uncommon among the wealthy.
The Paterases had a nun-daughter, Mother Irene, who had been tonsured by the well-known Hieromonk Philotheos Zervakos before she passed away in her twenties. Earlier, while she was in college in Switzerland, her father developed a metabolic malady known as Hodgkin's disease. Irene then supplicated God with great love and faith, stating that inasmuch as her father was needed for the business and family, would the affliction come to her in her father's stead. In His infinite wisdom, God harkened to her prayers, and the maiden then became sick while the infirmity ceased its progress in her father. She was then brought home and given as much medical care as possible as the ailment continued to advance.
Then, through the encouragement of Elder Ieronymos (Jerome), who was gifted with spiritual foreknowledge, Irene decided to become a nun. Irene went on to endure her deteriorating condition courageously, without complaint, knowing that in the Resurrection, Christ would have a crown of righteousness waiting for her. Greatly devoted to St. John Chrysostom as she was, she ardently desired to part from this life on his feast day, and God granted her request. She died in 1959.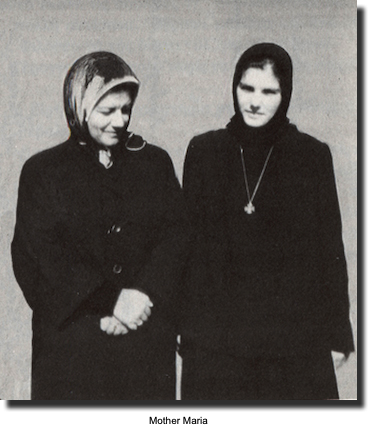 According to a custom in Greece, after three years the remains of the deceased are uncovered, and the bones are placed in a family charnel house or box so that the grave can be used again. After three years had passed, Mother Irene was found to be whole and incorrupt. Even the skin did not deteriorate, save for a portion of the skull that been eaten away by the disease. Many times while she was alive, one would see her holding her head while enduring great pain, and now one could see that the disease had eaten a hole in her skull. Her relics were removed, and with great solemnity they were taken to the island of Oinousis, where they were enshrined next to the church at a convent built in her honor.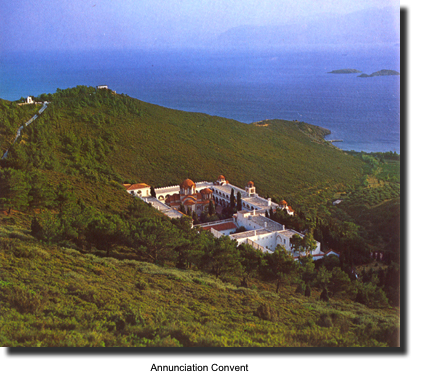 When Mother Irene reposed, the disease again took hold in her father and took his life, and he was also buried at the convent. In time, this nun's mother Maria became the abbess of that convent.
At the time George had stayed in the Pateras home in Athens, there was a house chapel. This chapel had been painted by the master iconographer Fotios Kontoglou, and during the period George was here, he was able to study this man's great iconographic work.
It was also during this time that George witnessed a phenomenon that greatly impressed him. In Greece, buildings are made of stone, so insects gather on the lower floors where it is cooler. In this large house, Mother Irene's cell, which consisted of two rooms, was on the lower floor. At its entrance, no insect or creeping thing would ever cross. Bugs would go only so far as the threshold and then die, even when the door was open. Apparently Mother Irene did not like insects in her living quarters, and this phenomenon with the bugs no doubt occurred due to the grace of Christ which was granted to her from her patience and martyric struggle in bearing her sufferings.
---
Archbishop Gregory
Dormition Skete
P.O. Box 3177
Buena Vista, CO 81211-3177
USA

Copyright 2011 - Archbishop Gregory
Last Updated: July 12, 2011