Home>North America>Life of AB Gregory
Chapter 19: First Visitation
One night after his meeting with the archbishop, Fr. Gregory was doing his Jesus Prayers. He was doing them the customary manner, on a small stool, with attention in his heart. Then, by the mercy of God, and most likely through the prayers of the archbishop, he was given a vision. When he awoke from this visitation, he was on the floor, in front of his stool, weeping profusely at the profundity of what he had seen or experienced. He was given the experience of being at the Crucifixion of our Savior. He could not tell how much time had elapsed. When he came to himself, he was so struck with awe that he could not move for some time. Finally, when he had gathered his composure, he went to confess what he had seen and the abbot could only tell him, "Be humble, be humble." He returned to his cell and pondered on why God had granted him this visitation at this particular time of uncertainty. He had spent twelve years in the monastery, and this was the first time he had ever experienced something similar to this.
At last, over a month later, Fr. Symeon met Archbishop Andrew, on September 8 (August 26 Old Calendar), the feast of the Meeting of the Mother of God of Vladimir. Father Symeon told him that he was sent from Fr. Gregory of Holy Transfiguration Monastery to ascertain the will of God. He told him that Fr. Panteleimon had blessed him (Fr. Symeon) to start a monastery in California, and wanted to know if it was God's will that Fr. Gregory join him there and to name the monastery Dormition Skete. The archbishop answered, saying that he met Fr. Gregory and that he is a good man, and that he blessed him to start this monastery named Dormition Skete. He also said that Fr. Gregory would leave the monastery in Boston, and that he would be released. He also added that the monastery would have brothers who will live together with much love and that men would come one by one.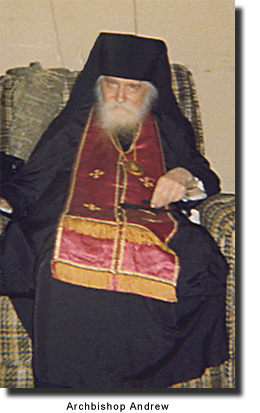 Father Symeon telephoned Fr. Gregory to relate to him the blessing and prophecy of Archbishop Andrew. Fr. Gregory said, "Did the archbishop not say that Fr. Panteleimon would bless me to leave?" Father Symeon answered "No, he said that you would leave the monastery and that you will be released. In fact, he said it twice." With these words, Fr. Gregory was comforted to know that such a major work would be blessed by God, and that either if he was blessed or released, it would in both cases be with the permission of the abbot. Therefore, he sat down immediately and wrote a letter to the archbishop, thanking him for his blessing, and he told him that in a few days, on the beheading of St. John, he was going to inform the abbot that you had given a blessing because it was from God, and that he, Fr. Gregory, would ask to leave the monastery to start this blessed work.
On the appointed day, with much expectation and joy, Fr. Gregory went to the abbot's cell to inform him of what had transpired. Naively he thought that since the spiritual father of the monastery, Archbishop Andrew, had blessed this, the abbot would discern that this was indeed a God-pleasing work and that he would bless him. What he received instead was an explosion.
The abbot would not hear in the least any talk about Fr. Gregory leaving the monastery, either with a blessing or a release, as the archbishop stipulated. In fact, he told Fr. Gregory, that "even if an angel from God told me to let you go, I will not let you go!" These words shocked Fr. Gregory, because indeed, through the person of Archbishop Andrew, God did send him an angel. Before Fr. Gregory left his cell, the abbot also told him that if he ever left the monastery, he would see to it that no bishop of the Russian Church Abroad would receive him into his diocese, because he would label Fr. Gregory a runaway monk. Father Gregory returned to his cell and had determined that since the abbot did not agree, he was going to let the desire perish.
A few days later, however, Archbishop Andrew sent a message to Fr. Gregory through a parishioner who had just visited him. He was told by the archbishop to speak one word to Fr. Gregory only, and not to speak to anybody else. He told this man to tell Fr. Gregory the word "wait" and that Fr. Gregory would know what this means.
Father Gregory indeed did wait, but he had no idea that the archbishop intended him to wait a whole year. In the meantime, Fr. Symeon was contacting Fr. Gregory, saying that he was having a hard time living in the world as a monastic and taking care of this parish that was given him in Oxnard, California. Winter had come, and being human, Fr. Gregory lost his patience. He had determined that he was going to leave on the feast of St. Gregory the Theologian in February (New Style, January, Old Calendar). He was reading one day one of St. Gregory's homilies, in which he addressed the people in Constantinople who objected to his holding that episcopal see, saying, "Gregory is departing. He will no more be a nuisance to you. He will no more trouble you …," and words similar to these. It seemed to fit so well, so on the appointed day, Fr. Gregory was packed and made ready to go. God, however, had planned otherwise. Again, the restraint was put on him to wait. What happened?
One of the biggest snowstorms came, known as the Blizzard of February, 1978. Father Gregory was the person who, among many other things, did the plowing in time of snowstorms. Never had he seen so much snow in all his life. Thirty-six inches of snow and drifts up to fifteen feet were reported all over the Boston area. It came down at times at a rate of four inches per hour. He could not stop plowing; otherwise it would be impossible to keep up. The National Guard of Massachusetts was called out. The Commonwealth was immobilized for at least a week. There was so much snow that there was no place to plow it. At one point, on a thin road which Fr. Gregory plowed for the neighbors, the snow was above the cabin of the truck. There was a wall on the right and a wall on the left, and if the truck broke down, there was no way to open any door to get out. Thank God, this did not happen, but it was definitely an indication to him that he had to wait for another time.
---
Archbishop Gregory
Dormition Skete
P.O. Box 3177
Buena Vista, CO 81211-3177
USA

Copyright 2011 - Archbishop Gregory
Last Updated: July 12, 2011