Home>North America>Life of AB Gregory
Chapter 18: Father Gregory Seeks a Sign
In this cell he had a desk, a prayer corner, and a hard bed. The cell was not used because of the archbishop's illness. Icons filled practically every part of the walls. When he went into the cell, he breathed a sigh of relief and waited. His thoughts began to tell him that the archbishop is not going to say anything to him. He therefore became bold in that he determined within himself that he was going to ask the archbishop for a blessing for one of his icons which was in his cell. He looked all around the cell for an icon of the Dormition, because that was the name he intended for the new monastery if it was God's will. He found a small Russian icon of the Dormition which was a stamped, colored, metal icon. These types of icons were produced by the thousands in Russia, and their value, if anything, was very small.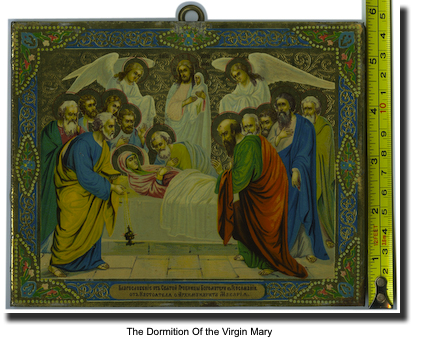 So he took this icon down from the wall and was planning to ask the archbishop for it as a blessing. If the archbishop, he said to himself, were to give the icon to him, then he would understand that the archbishop through the grace of God knew what was in Fr. Gregory's mind and that something was still to be determined. However, if he refused to give the icon, he determined that this was going to be a complete rejection and that he should not pursue it anymore.
After they had their confession, the doors were opened to his bedroom and all were called back to receive his blessing. At this point, Fr. Gregory took two photographs of the archbishop in his seat. To prepare himself, the archbishop put on his klobuk and asked for the staff of the famous abbot of St. Panteleimon's monastery on Mount Athos in the early part of this century which was given to him as a gift from the fathers there. This photograph can be seen among the other photographs offered by Dormition skete. After the photographs were taken, all went to the archbishop to receive his blessing.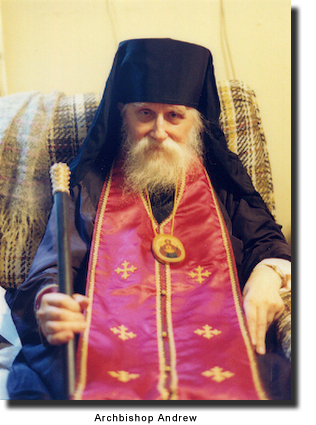 Father Gregory remained to be the last to receive his blessing while the rest stood by. He made a prostration to the archbishop and showed him the icon from his cell and then asked the translator, Fr. Alexander, to ask him if he would bless Fr. Gregory with this icon and give it to him. Father Alexander translated the request to the archbishop. The archbishop took the icon in his hands, which were shaking because of his disease. Father Gregory was kneeling in front of him and put his head down on the archbishop's knees. Father Gregory waited and waited (it must have been about thirty seconds) and did not hear any words being spoken, so he slowly raised his head. The icon was in front of him, held by the archbishop. As Fr. Gregory reached for the icon, so did the translator, so all three were holding the icon tightly and no one would let go.
Then Fr. Alexander said to the archbishop, "Give it to him." The archbishop responded in Russian, "Nyet escho." When Fr. Panteleimon heard the word nyet, immediately he said, "Nyet, nyet, nyet! Leave it, leave it alone! He doesn't want to give it to you, Fr. Gregory!"
So immediately Fr. Gregory rose up and received Vladyka's blessing, and the whole company then departed.
Father Gregory then set it in his mind that this whole episode was going to end. He settled it in his heart that he was not going to pursue the matter any further. As the four visitors were traveling home, with Frs. Panteleimon and Mamas in the front seat (with Fr. Mamas driving), and Fr. Gregory and the Russian John in the back seat, Fr. Gregory was mulling the matter over and over in his heart. There was no talking in the back for quite some time. Then John decided to start a conversation.
He started it by saying, "What a wonderful thing happened back at the archbishop's kellia."
Then Fr. Gregory looked at him and said, "What do you mean?" John said, "You did not see the archbishop because you put your face down on his knees. You should have seen what he did to you."
"What do you mean?!", asked Fr. Gregory in astonishment.
He said, "During the time you were bowed down, the archbishop was making the sign of the Cross over you with the holy icon, which he did three times, and you should have seen his face!"
Father Gregory asked what he meant. John said, "When he blessed you, the archbishop's face lit up like the sun. His expression changed dramatically."
Father Gregory said, however, "He did not give me the icon I asked for. He said, 'No.'"
John answered, "He did not say 'nyet,' which is no; but he said, 'Nyet escho.' It was Fr. Panteleimon that said 'Nyet.'"
Fr. Gregory then asked, "What does, "Nyet escho" mean?"
John answered, "It means, 'NOT YET.'"
When Fr. Gregory heard these observations from John, he understood that Archbishop Andrew was answering his secret question. We have seen this sort of thing happen countless times when a man gifted with divine foreknowledge meets someone. They speak to them and answer the secret things of the heart, which are most important. The whole conversation was not heard by the two in front because they were having their own conversation.
Father Gregory determined that he was going to wait to see what the archbishop would say when everything would be put forth to him clearly and concisely without inhibition. Then the archbishop could speak without hindrance. When Fr. Gregory made this visit, it was the feast of the Mother of God, Joy of all that Sorrow, which was August 5 (or July 23 according to the Old Calendar). He returned to the monastery and waited for news from Fr. Symeon.
---
Archbishop Gregory
Dormition Skete
P.O. Box 3177
Buena Vista, CO 81211-3177
USA

Copyright 2011 - Archbishop Gregory
Last Updated: July 12, 2011