Home>North America>Life of AB Gregory
Chapter 3: Visiting the Monastery
It was about this time, 1965, that the new direction of the Orthodox Church was being forged. Ecumenism and the union of the churches were on everybody's mind. George, being dissatisfied with this new innovation, had long debates with his priest and even with one of the bishops from Lebanon. Yet it was to no good end, because the head of the Antiochian Church in America, Archbishop Anthony Bashir, and the head of Greek Church in America, Archbishop Iakovos, were intent on following in this new Ecumenical Movement which was being forged by Patriarch Athenagoras. In fact, Athenagoras was about to proclaim the "Lifting of the Anathemas" in December of 1965, and this in no way pleased the young George.
During one of the evening Sunday school instructional meetings, George decided that he was going to put the seminarians and Fr. Panteleimon to a test, specifically about the Ecumenical Movement, because, so far, every priest he had talked to was justifying the course of his bishop. At the end of one meeting as they were leaving the classroom, he questioned Fr. Panteleimon, whom he was told had just entered the Russian Church Abroad. He asked him, "How do you and your bishops feel about the Ecumenical Movement, which is starting?" The answer was, "We do not accept it, but we do not go out and ring bells in the street like the Salvation Army." This rejection of Ecumenism satisfied George very much, and he understood that the Russian bishops were different.
He waited eagerly for the next meeting with Fr. Panteleimon, to pursue this topic. He did not appear. When George questioned those seminarians who were there, he learned that the abbot was sick, and therefore could not come again. He asked them the address of this monastery, and to his surprise, it was right on the road he traveled everyday from his home to the university. So he decided the next day to "visit the sick" at the Holy Transfiguration Monastery. He went and knocked on the door, and there met him the sickly Fr. Panteleimon.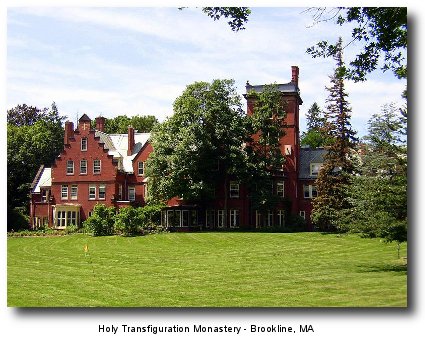 Now this was the first time that George entered the confines of a monastery. He saw the Byzantine hand painted icons by the master Photios Kontoglu, and saw that they were very special, quite different than what he was used to. At that time, the monastery only had five members, Fr. Panteleimon, rassophore monk Ephraim, rassophore monk Haralambos, novice Barnabas, and novice George. This last person became an apostate known as "Swami George," and opened a monastery in Nebraska which combined Catholicism, Orthodoxy, and a little bit of Hinduism. There was also there the Priestmonk Daniel. He was a Serb and a resident in the monastery until he finished his doctorate in theology at Harvard. He was very quiet and served on Saturdays and some feast days. He commemorated Metropolitan Philaret, and George was told by some that when Fr. Daniel would graduate he would return to Serbia to convert the whole Serbian Church from Ecumenism. George was just twenty-one years old and very simple and believed everything that was told to him. In fact, when Fr. Daniel returned to Serbia, he immediately became a bishop and was swallowed up into the Serbian Synod as well as into Ecumenism.
George started coming to the monastery regularly, even for services and taking holy Communion. He was full of questions on account of his great thirst to learn more and more about Orthodoxy, the monastic life, iconography and the Jesus Prayer. The Jesus Prayer was new to the young man. After reading some texts about the prayer of the heart in his book, the Philokalia, and being given a prayer rope by the monks, he desired with eagerness to start on the road of noetic prayer.
One night, after he had finished his homework for the university courses, he decided that he was going to sit down for a half hour and put into practice what he had read about the Jesus Prayer. He got a stool and with his prayer rope in his left hand, he closed the lights in his study and sat down, gazing inwardly as he recited the prayer, "Lord Jesus Christ, Son of God, have mercy on me," as St. Symeon the New Theologian instructs. Almost immediately after he settled down, and concentrated on the prayer, he saw a horrifying vision of a most-sickening face that appeared before his mind's eye. Immediately he jumped up, put on the lights, put the prayer rope down and said to himself, "OK, so much for the Jesus Prayer! Three minutes: That's enough of that! I'll spend the rest of my time reading." And he started reading a spiritual book in somewhat of an agitated state of mind.
Obviously, the evil one tried to frighten the young man at the outset of what was to be an integral part of his spiritual life in the future. Indeed, the Jesus Prayer became a staff for the young man throughout his life. However, the beginning, as we see, was a little unsteady, as often happens with those who are called to be monastics. The next day, of course, the young man went back to the Jesus Prayer, which over the course of many years became part of his soul.
On one weekend while he was visiting the monastery, the fathers showed George an icon of the Lord's Crucifixion, which they just received from Mount Athos. They bought icons and sold them to the Greek Archdiocese churches to make a profit. This particular icon was a good example of contemporary work from the Holy Mountain. George looked at it and studied it for about one half hour. Then he asked to take it home, so as to duplicate it. At first they said no, and laughed at him saying, "How can you paint that? You never had a brush in your hand before!" He told them that he was good with his hands and also worked as a draftsman. He told them they would never know unless he tried. Finally he convinced them. George took the icon home for a few days and cut 12 copies out of Masonite. He bought paint and started his decades-long livelihood in iconography. He painted three crucifixes. They were all quite primitive and of the poorest quality. He was told to just give them away to friends, which he did.
---
Archbishop Gregory
Dormition Skete
P.O. Box 3177
Buena Vista, CO 81211-3177
USA

Copyright 2011 - Archbishop Gregory
Last Updated: July 12, 2011