Home>North America>Life of AB Gregory
Chapter 2: Childhood to Adulthood
When George was born, he was very small, so small that he had to be put into an incubator. In those days, prenatal care or natal care was still developing. One year later, it was discovered that putting undiluted oxygen into the incubators blinded babies. Even after he left the incubator and was brought home, he was so small that his mother was afraid to hold him for fear that she would somehow injure him. The young George's condition was also exacerbated because he refused his mother's milk. When the twins were infants, the priest Abdullah Shaker came to the home of the George family and baptized them. Arabic was the only language spoken in the home, so that as George and his brother matured, they did not learn to speak English. After two years in elementary school, however, George could not speak Arabic anymore. He lost it all.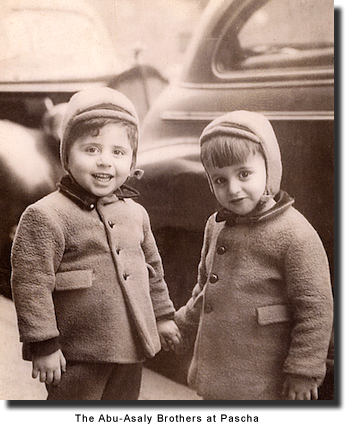 He passed through elementary school, junior high school and then the Boston Technical High School, which was an all-male high school that required an entrance examination. As a young boy and adolescent, George differed very little from others of his time and age. He was athletic and played in as many sports as he could, and in high school he was on the crew team which competed with other high schools in rowing on the Charles River. He was also the co-captain of the trick drill team and was the class representative, and he participated in other activities as well.
He was always a person to root for the underdog or to take the side of someone who was wronged. In junior high and high school, he would be confronted by the class bully or even the neighborhood bully, and when the gauntlet was thrown down to him, he was not one who would turn his back and run away. On the contrary, he would defend his right or innocence even in the face of bullies who were older, bigger or stronger and he would accordingly suffer the outcome of being beaten or losing the fight. However, this did not matter because he felt he should do what was right.
In this way, he was like so many others, with the only exception that he loved to learn about the Church and the saints and the meaning of life. He would say his prayers as best he could, with very little instruction because it was not available. He had to teach himself by purchasing any Orthodox books that could help him to learn about the teachings of the Church and lives of the saints. It was during his latter teens that he purchased the books The Ladder of Divine Ascent, The Philokalia and The Rudder, or canons of the Holy Orthodox Church. These books made a deep and lasting impression upon him because they proclaimed the laws of God and strengthened his spiritual understanding and the Christian life, to which he was aspiring.
In Boston Technical High School, he was in advanced courses, excelling in mathematics, calculus and drafting. One of his mathematics teachers, Miss Quirk, was a former Roman Catholic nun who was contemplating returning to the convent. George, however, through many conversations encouraged her not to return and explained that she had done the right thing by leaving the convent and that she should even get married. So we see that even in high school, the young George had a true Orthodox understanding of many spiritual things which the Orthodox of today do not comprehend.
In a drafting contest among all the high schools of Massachusetts, George won and came in first. In his 1963 yearbook, under the picture of every graduate, each person would state his ambition. One would say to be a doctor; another would say to be a pilot, etc., but under George's picture he wrote, "To be acceptable in the sight of God." After he graduated from high school, he entered Northeastern University.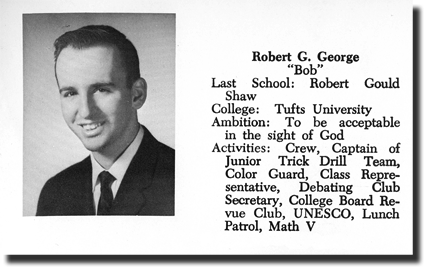 On one occasion, on a beautiful summer day in Boston, while George was reading St. John of Kronstadt's My Life in Christ, it just so happened that a big black man was walking down Washington Street right past his home. As he came by where George was reading, he stopped and asked him for some food. George answered, "OK, you must be hungry?" And he said, "Yes!" George, looking back towards his home to see if anybody had seen him, told him, "Come, follow me," as he brought him to the porch and on the opposite side of the house. George then went around the home to the back door and entered into the kitchen, and took a few dishes of food out from the refrigerator, with bread and silverware, and brought them through the house to the back door which opened to the porch and placed them before his guest. When he saw that he consumed them all, he told him, "Wait, I will get you more," and he went in quietly and took out more food and placed it before the man. Then after he had finished almost everything, he heard a commotion inside the home. His grandmother had discovered that George was feeding a stranger, and a black person at that. She immediately notified George's mother Agnes, who only added to the turmoil, but they were both afraid to come outside. The stranger thanked George very much and continued on his journey. Well, when George started to return the plates and the silverware, he knew he had some explaining to do. They did not hesitate to scold him, saying, "What?! Are you crazy?! How could you do this?! How did you do this?!" He did not answer, but put the plates in the sink and went out to be with his guest and say goodbye. When George went out of the home, the black man was not to be seen anywhere. George went to the sidewalk to see if he was continuing on his way, because from that position he could see at least a mile in all directions. He looked to the north, the south and all around to no avail. In bewilderment, he stayed on the sidewalk, unable to imagine where he was, for within one minute the man had disappeared. George returned into the house and explained that this man was hungry and it was only right to feed him, and that he was mystified because he wanted to see his guest off, or at least wave goodbye to him.
George entered Northeastern University, a co-op college, and majored in electrical engineering. Because his family was poor, he could not attend any other type of college. A co-op school is where one attends and pays for the freshman year, and all subsequent years, one works for three months and goes to school for three months, and in that way pays his way through college. Because he entered college, he was not eligible to be drafted into the Vietnam War. Those times were very uncertain and, one may say, wild.
George, however, after spending three years in college, nurtured a desire to serve the Church. Being fervent in his religious devotion, he was always serving as an altar boy. Even from the age of seven, he would travel all the way to downtown Boston from West Roxbury on the subways with his brother, and both would serve in their parish church of St. John of Damascus. As he grew up, he wanted always to be close to the Church. While in college, he also became a Sunday school teacher and was able to instruct the highest grade.
At that time, the Orthodox Sunday school teachers throughout the Boston area were invited to take a special course offered by both the Greek and Antiochian Archdioceses. They would be lectured by education professors from the University of Massachusetts in classroom instructional skills, and also by professors from Holy Cross Greek Orthodox Seminary in Orthodoxy. It was then that he first met the respected Fr. John Romanides, who lectured to the Sunday school teachers on various topics of theology. There he met also for the first time some of the seminarians from the theological school, with whom he would always remain in contact.
It was also on one of these occasions that he met for the first time a guest lecturer who was the young, 29-year-old abbot of the Holy Transfiguration Monastery in the Boston area. His name was Fr. Panteleimon, and he was invited to speak on monasticism. He made an impression on the young George because he was a monastic and spoke about the monastic life and the Holy Mountain Athos. All the young seminarians (who were of the same age as George, about 21 years old) looked up to him and reverenced him as the only Greek monastic in the country and because of his connection with Mount Athos.
---
Archbishop Gregory
Dormition Skete
P.O. Box 3177
Buena Vista, CO 81211-3177
USA

Copyright 2011 - Archbishop Gregory
Last Updated: July 12, 2011