Home>North America>Life of AB Gregory
Chapter 27: New Possibility in Canada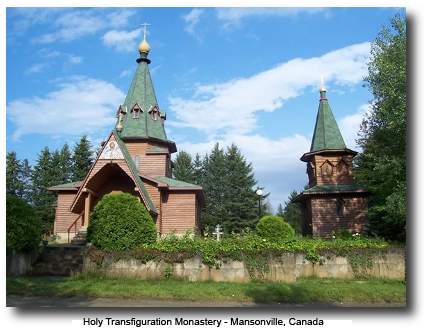 Archbishop Vitaly of Montreal visited Jordanville and Fr. Vladimir remembered his skete of the Transfiguration in Mansonville, right on the United States border. He suggested that Fr. Gregory ask Archbishop Vitaly if he would like him to live there. Archbishop Vitaly was overjoyed; he even said, "I will give it to you." Father Gregory was also overjoyed, and now that winter was coming, he made arrangements with his brother Richard to drive him to Mansonville, Canada, which was about two hours from Montreal.
When Fr. Gregory arrived in Mansonville, winter was approaching fast. There was one monk there, Fr. Seraphim, who lived there until deep winter, when he had to return to be with the archbishop in Montreal. The skete, it turned out, was uninhabitable because the water would freeze and there would be no running water until springtime. This was a minor detail of which Archbishop Vitaly neglected to inform Fr. Gregory. When Richard saw that there was no running water, no heat, except for what could be obtained by firewood, no place really to paint icons, no transportation, and no grocery store nearby, he determined that he was not going to leave his brother there, and continued to drive to the bishop's residence in Montreal.
Archbishop Vitaly had a small monastery at his residence dedicated to St. Seraphim, with three other monks, two priests and one rassophore monk. They lived in a three-storey house in one of the suburbs of the city. Father Gregory was welcomed and given a room, and was able to paint his icons to pay for his maintenance. He spent the whole winter in Montreal, observing all the routine of the monastery. The brotherhood was very happy at his joining them because they were of the same mind with regard to Ecumenism, in that they were bold enough to condemn it openly, without hesitation. The archbishop, in due time, had Fr. Gregory paint two fresco icons for his cathedral of St. Nicholas. He would accompany the archbishop on many of his trips when he was able to drive to his destination. He accompanied the archbishop to synodal meetings in New York, and around his diocese. During the winter, Fr. Gregory had an occasion to listen many times to the monks and the laypeople talking about the skete in Mansonville. They gave him the impression that the place is not really intended to be a monastery. When spring approached, Archbishop Vitaly took Fr. Gregory on a trip to Mansonville so that they could measure the dome area in order to paint a Pantocrator (the main icon of Christ in a dome). The archbishop wanted Fr. Gregory to paint it in the same Russian style as all the other icons that were painted by one of his parishioners called Shelikov.
During the winter months, Archbishop Vitaly had decided that he was going to ordain Fr. Gregory a deacon, and he proceeded to teach him the petitions in Slavonic. He taught him the alphabet, and appointed the mother of Archbishop Paul of Australia, who was living close to the monastery, as his teacher. These lessons continued throughout the winter of 1978, and Fr. Gregory had learned most of the Divine Liturgy.
When the time came to install the Pantocrator, Fr. Gregory spent a week at the skete, and noticed that some of the rooms were locked. He was told that this room belonged to one family, and that room belonged to another family, and so forth, and that these rooms were rented by the archbishop as summer cottages where the families would come out and spend weekends at the monastery, go swimming in the river and engaging in other recreational activities. At this point, Fr. Gregory understood why Mansonville never really grew, even though it had a very beautiful church building and many other buildings around for work areas. It was hard to believe, but it was confirmed over and over by the parishioners.
Now Fr. Gregory was in a dilemma: he understood that the skete was not really conducive to monastic life or to what he was seeking, and he did not want to live there. However, on the other hand, if he permitted the archbishop to ordain him a deacon, he would be obligated to serve him. So he was praying that somehow God would reveal another path, either back to Jordanville or someplace else.
When Pascha was approaching, Fr. Gregory's prayers were answered. A former friend, Seraphim, who had visited him in Boston, heard that he was in Montreal. This man was living in Colorado, and after speaking with his priest, Fr. Peter Burlakov, decided to invite Fr. Gregory to Colorado to start a monastic skete in the mountains. Seraphim had also indicated that he wished to be his novice. Since no other opportunities seemed to present themselves, he thought that perhaps God was leading him on this path. He informed the archbishop that after Pascha he would be leaving for Colorado. To say the least, they were not happy. They had grown to love Fr. Gregory, and Fr. Gregory had grown to love them, but he was seeking the monastic life similar to what St. Nil of Sora established in Russia. This is why he left the monastery in Boston and the monastic communities in Jordanville, San Francisco and Montreal.
A few days into Bright Week, Seraphim drove from Colorado to Montreal to transport Fr. Gregory and his belongings to Colorado. Archbishop Vitaly then telephoned Archbishop Seraphim, the ruling bishop of Colorado, that Fr. Gregory was coming to his diocese.
---
Archbishop Gregory
Dormition Skete
P.O. Box 3177
Buena Vista, CO 81211-3177
USA

Copyright 2011 - Archbishop Gregory
Last Updated: July 12, 2011