Home>North America>Life of AB Gregory
Chapter 16: The Dawning of the Will of God
The concerns and confusion of the young Fr. Gregory, who was now approaching thirty years of age, continually troubled him, and he did not hesitate to confess not only to Bishop Constantine, but also to Mother Stephania, to get their advice. They quite sincerely confessed that they were in the dark also as to the unmonastic character of the abbot, and why so many novices and so many great schema monks had already left the monastery. It was only concluded that they should all pray with more fervor. Father Gregory took this to heart and with a great desire opened his heart to our Savior and His saints. Then on one occasion when the life of St. John of Shanghai and San Francisco was being read in the trapeza, and the great miracles which he performed were being recounted, Fr. Gregory was very moved and in prayer and with many tears, besought St. John to help him understand what was wrong and what was troubling him.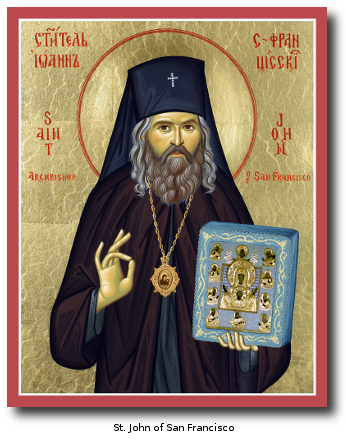 As he was weeping during this prayer, he heard a knock on the door of his cell. He immediately wiped away his tears and opened the door to his cell, and there before him was a visiting hieromonk from California named Fr. Symeon. This person had just been converted to Orthodoxy and was living a celibate life and wished to serve the Church. Whereupon the bishop in New York, namely Bishop Gregory Grabbe, with the blessing of Metropolitan Philaret, proceeded to tonsure Symeon and ordain him a priest to serve a church as a monastic in Southern California.
When the door opened and Fr. Symeon saw Fr. Gregory, he could tell that he was weeping. Being a friendly and sincere person, he wanted to know the reason. Father Gregory only told him that he was doing his prayers. Father Symeon then told him that he had come to speak to him of the "good news" which he had just received from the abbot, Fr. Panteleimon. That news was that Fr. Panteleimon had blessed him to start a monastery in California and to be the abbot. Although Fr. Symeon did not realize it, this was the habit of Fr. Panteleimon from time to time. He would bless people to start a monastery, knowing full well that such a great spiritual endeavor had no possibility whatsoever of success. It wasn't difficult for him to say, "Go and start a monastery." It would not be difficult for him, or anybody for that matter, to say to someone, "Go start a monastery" without sacrificing himself or his monastery in the slightest way. He would not give a "blessing" with the support of giving monastics from his monastery to start another one. He would only say, "You have my blessing to start a monastery," and wish them good luck, while secretly implying the words, "Don't expect me to send anyone from my monastery, or even to ask for volunteers." In this way, any imagination of starting a monastery would be dispersed as a passing dream. Father Panteleimon knew the great sacrifice that was needed to establish a monastery because he had failed on his first attempt and had succeeded in his second attempt only with the help of many others who donated substantial amounts of money. This luxury was not to be forthcoming in any of his blessings.
When Fr. Symeon told Fr. Gregory his great news of starting a monastery on the West Coast, Fr. Gregory immediately understood that the possibilities for success were practically non-existent, yet the zeal that Fr. Symeon had for starting a monastery compelled him to speak words of advice and counsel to Fr. Symeon in how to set up his monastery. Father Gregory told him to start a skete, to keep it small, to not have it in the city, among other things. He also told him to dedicate it to the Dormition of our Most Holy Lady Theotokos. When Fr. Symeon heard his advice and understood the great work which was needed and the skill which he lacked, being very naive, he said in a surprising voice, "Why don't you come with me? I will ask the abbot for a blessing," thinking that as easily as he had received a "blessing" to start a monastery, he could obtain a blessing for Fr. Gregory to go with him. But Fr. Gregory knew that this was impossible because on many occasions in the past when the Russian bishops asked for volunteers to go to Mount Athos and inhabit Prophet Elias Skete, or when properties were offered to start another monastery, Fr. Panteleimon refused to even think of losing any of his monks to start another monastery. One did not know whether it was the loss of a monastic or the establishment of another monastery which caused him the greatest fear. It seemed that he had to be in control of all things.
When Fr. Gregory heard his proposal, being somewhat unwary himself about the intentions of Fr. Panteleimon, he suggested that Fr. Symeon determine if this thought or idea was from God by traveling to Novo-Diveyevo, in Spring Valley, New York, to speak with Archbishop Andrew, the spiritual father of the monastery. He was noted for his divine foreknowledge, beside the fact that Fr. Panteleimon was calling him the spiritual father of the monastery and commemorating him in the Liturgy as Archbishop Andrew, "our spiritual father," even though the monastery was not in his diocese.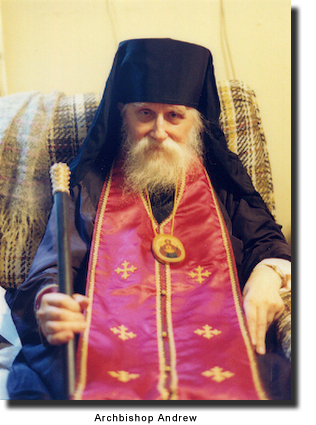 Archbishop Andrew, many believe, was the last in the line of the spiritual elders of Optina. The holy New-Martyr Nectarios of Optina was his spiritual father and died under the epitrachelion of Archbishop Andrew, then Fr. Adrian. In this way it was agreed that if this idea was from God, certainly a holy person like Archbishop Andrew would not hesitate to reveal it, and not only that, this revelation would immediately convince Fr. Panteleimon to let Fr. Gregory leave the monastery to help Fr. Symeon to start another monastery. In thinking this, we see how naive Fr. Gregory really was. He believed so much in obedience, and sacrificed so much in his own life to be obedient, that he could not imagine that the very person to whom he was obedient to would be disobedient himself. He should have known that this was a possibility because throughout the many years of living at the monastery, the history of Fr. Panteleimon and his monastic life was never the subject of discussion for the any of the monks. If anyone would ever inquire, he would be told something very brief: that he went to the Holy Mountain, he was tonsured at St. Panteleimon's Monastery, and then went under Elder Joseph the Cave-Dweller. There would be no details of a life of obedience. Father Symeon, of course, agreed with the proposal to visit Archbishop Andrew, and he also did not want to do anything other than the will of God. The time of his visit at the monastery in Boston had now come to an end, and he was scheduled next to visit Holy Trinity Monastery in Jordanville, New York. It was agreed therefore that whenever he could find the means to travel from Jordanville to Spring Valley, Fr. Symeon would ask Archbishop Andrew if it was God's will for him to start a monastery in California with Fr. Gregory, a monk from Holy Transfiguration Monastery.
---
Archbishop Gregory
Dormition Skete
P.O. Box 3177
Buena Vista, CO 81211-3177
USA

Copyright 2011 - Archbishop Gregory
Last Updated: July 12, 2011