Home>North America>Life of AB Gregory
Chapter 37: The Coming of Fr. Niphon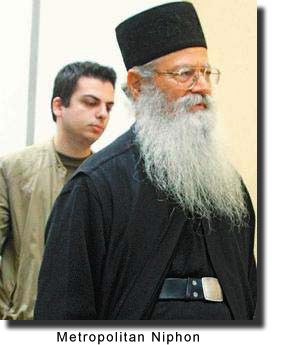 Father Niphon was an archimandrite and abbot of a monastery in Greece called Holy Protection, in Keratea, Attike. He was a member of the GOC of Greece who remained with Archbishop Chrysostom after the ordination of Paul. He witnessed the struggle that Fr. Gregory was having with the archbishop over the ordination of Paul of Astoria and sided with Fr. Gregory. But he did not have the fortitude to speak out openly in his behalf, but remained in the background helping Fr. Gregory, even though he had considerable influence because of his position as head of one largest monasteries in southern Greece. When Paul was ordained, he boldly asked to visit Fr. Niphon and his monastery, knowing very well that they were opposed to his ordination. Fr. Niphon said nothing and even received him into his monastery with the ringing of bells. When Fr. Gregory heard that Fr. Niphon received the newly secretly elevated Bishop Paul into his monastery and even served with him, he telephoned Fr. Niphon and rebuked him for his hypocrisy, for Fr. Niphon and his monks were adamantly opposed to Bishop Paul.
Proverbs 9:8 states: "Rebuke a wise man and he will love thee, rebuke not evil men, lest they should hate thee." Father Gregory's rebuke to Fr. Niphon may not have been received well by him, because after this chiding, communication between the two waned considerably.
As noted above, in February, 1999, Fr. Gregory joined the Synod of Metropolitan Kallinikos of Lamia. In August of 1999, Archbishop Chrysostom ordained five young priest-monks as bishops who were below the canonical age. One was 29 years old, and another in his very early 30s was the archbishop's nephew! Some surmise that Archimandrite Niphon who was in his late 50s, was overlooked for elevation to the episcopacy and therefore decided to leave the faction that belonged to the archbishop and to petition to join the Synod of Metropolitan Kallinikos. He was indeed received into the Church for he had not only a monastery but also a few churches in Athens which he served with his priest-monks and monks. This was looked upon as a major defection from Archbishop Chrysostom.
So Archimandrite Niphon followed Archimandrite Gregory to the Synod of the Lamians. Not much time passed when Archimandrite Niphon was ordained a bishop. Then about six months later, in a surprising move, the newly ordained Metropolitan Niphon requested that he be made exarch of the United States. The Synod in Greece granted his request without asking the opinion of those in America, especially Archimandrite Gregory and those priests under his care, all of whom were satisfied with the spiritual care of Metropolitan Kallinikos. Nevertheless Fr. Gregory welcomed and commemorated the new administrator of the diocese of America and invited him to visit Dormition Skete.
His first visit to America as the bishop was to the cities of Detroit and Chicago only. In Detroit he ordained to the priesthood one of Fr. Gregory's spiritual children, a married man. Since Metropolitan Niphon could not speak English, one of his priests, Fr. Nilos, was his interpreter. The newly ordained priest was told by him to have nothing to do with Fr. Gregory anymore, not to ask him any questions about the spiritual life, not to go to Dormition Skete to be trained to serve, not to remain with him as his spiritual father, but rather have Metropolitan Niphon as his spiritual father, and most importantly of all, not to tell him of these directives! When this priest asked Fr. Nilos why this was happening, the only answer he received was, "Fr. Gregory is an evil person and is under investigation from the bishops, and he is either going to leave the Church or be thrown out." This priest could not contain himself because of the grief he was enduring, being separated from his spiritual father, so after three months he told Fr. Gregory everything that happened in Detroit.
On another occasion another priest who had Fr. Gregory as his spiritual father was told by Fr. Nilos the same slander. Again, another priest who had a mission in Denver stopped communicating with Fr. Gregory but only let him know that, "These people don't like you." Father Gregory did not know what to do other than to inform the other bishops in Greece about what was going on in America. They were all speechless and could not believe the disorder in the Church that was happening because of Niphon's actions. Even after letters were written by these priests to the bishops in Greece, they were baffled how to proceed with this man, Metropolitan Niphon, whom they thought they knew.
When he made his second trip to America, Metropolitan Niphon flew to Chicago, then Denver, to visit the mission parish there. Father Gregory was not notified of his trip to Denver and was not invited to meet him. When he learned from others that his bishop was coming to Colorado, he extended another invitation to visit the monastery. He refused. Father Gregory, now being placed in this situation, had a dilemma. How should he proceed? So he called the head of the Synod, Metropolitan Kallinikos, to ask what should he do. "Metropolitan Niphon has come all the way to Colorado and refuses to come to the monastery" he told him. Metropolitan Kallinikos said, "No, no, you must go there to show good will." Father Gregory agreed and called the priest of the Denver mission and told him that he was coming to Denver to greet Metropolitan Niphon. He immediately called back and told Father Gregory that the metropolitan does not want to see him and is not coming to the monastery either. Metropolitan Niphon traveled almost seven thousand miles and refused to be driven a little over 100 miles to visit his only monastery in the country. Because of all of these events, the fathers of Dormition Skete understood that Metropolitan Niphon did not want them to be in the Church of Greece. Fr. Gregory and those with him began to look for another Synod of bishops where they would be welcome.
After Communism fell in 1990, the Russian Church Abroad sought to lay the foundation of Church life in Russia by ordaining bishops who would not be subjugated or have any communion with the Moscow Patriarchate. The Soviet Church was not only involved in the Ecumenical Movement, but it was also led by bishops who were handpicked by the KGB. The Russian Church Abroad ordained bishops in 1991 for their own Church inside Russia. As previously noted, these bishops in Russia broke communion with the Russian Church Abroad in 1994 after their union with the Cyprianites, which was a betrayal of Orthodoxy. In 2001 these bishops sought to establish churches in the United States. At that time they were known as the Russian Orthodox Autonomous Church led by Metropolitan Valentine. The undeniable fact was that the Russian Orthodox Autonomous Church and the Greek Old Calendar Church under the Lamians were in communion with each other, even though they did not comprehend it. They were in communion with each other before the union of the Russian Church Abroad with the Cyprianites, and both separated from the Russian Church Abroad for the same reason, but both the bishops in Russia and the bishops in Greece did not know that the other existed.
It was to these bishops in Russia that Archimandrite Gregory desired to join. He had been a member of the Russian Church Abroad since 1966 and had not known that these bishops also departed from the Russian Church Abroad because of the union with the Cyprianites. He made the decision to ask for a release from the Greek Church to be reunited with the Russian Church. He made this request in writing to the Holy Synod in Greece. Even though they were embarrassed at the actions of Metropolitan Niphon, they did not want to let him leave, so they told him in writing that they would release him only if they had a document of his reception from the bishop he was applying to.
Father Gregory therefore contacted Metropolitan Valentine and requested to be received under his omorphion, explaining the conditions of the Church in Greece.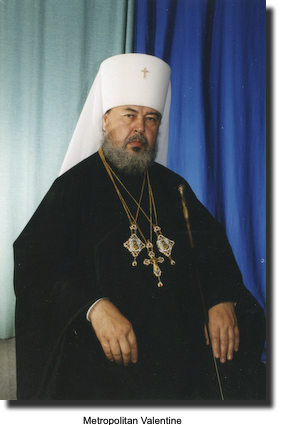 Metropolitan Valentine immediately wrote a letter to the Greek Synod, explaining that he would gladly receive Fr. Gregory and those with him. After he wrote this letter, he had it hand carried from the city of Suzdal to Moscow so that it could be mailed quickly and expeditiously. The letter should have taken one week at the most for delivery. After a week and a half the Greeks declared that they had not received it, so Metropolitan Valentine immediately faxed the letter directly to their office and waited. After one week and no reply, inquiry was made if they received it. It was acknowledged that they received it indeed the day it was faxed, but they wanted the original also. Metropolitan Valentine waited one week more, and then another week, and then two weeks more. After waiting eight weeks with no reply, he told Fr. Gregory that enough is enough and he received him into his Church in August of 2001 on the feast of St. Maximos the Confessor. Then more than three months later in the middle of November 2001, Fr. Gregory received a letter from Metropolitan Niphon which all acknowledged as a "backhanded" release. After criticizing him for being disrespectful, provocative, and offensive, etc., it stated: "You are no longer a member of the Church of the Genuine Orthodox Christians of Greece and Abroad; and as a result, we do not have the responsibility for your future course."
Some of the lower clergy in Lamia in correspondence with Archimandrite Gregory prior to his departure from the Church of Greece, told him that because of the actions of Metropolitan Niphon, he must leave their Church, but that "he could be sure that even if he did leave, Metropolitan Niphon would continue to pursue him." Father Gregory thought that this was absolutely ridiculous, but this indeed happened, for in the year 2002, the then Bishop Gregory received a letter from Metropolitan Niphon stating that he was going to be put on trial by him for showing disrespect to his bishop and for leaving the Greek Church. Bishop Gregory then sent this letter to the secretary of the Synod in Greece, who responded that Bishop Gregory should ignore him, saying that he told Metropolitan Niphon that this was absurd, because he already released Archimandrite Gregory writing, "You are no longer a member of the Church of the Genuine Orthodox Christians of Greece and Abroad; and as a result, we do not have the responsibility for your future course." The secretary of the Synod also told him he had positively no canonical right to judge Bishop Gregory.
The final outcome of this hapless Metropolitan Niphon will be explained below.
---
Archbishop Gregory
Dormition Skete
P.O. Box 3177
Buena Vista, CO 81211-3177
USA

Copyright 2011 - Archbishop Gregory
Last Updated: July 12, 2011