Home>North America>Life of AB Gregory
Chapter 35: Father Gregory Joins the Greek Old Calendar Church
The only other Synod of bishops known to Fr. Gregory that was not involved in any ecumenical activities was the Greek Old Calendar Church, which had been in communion with the Russian Church Abroad since at least 1960. Russian bishops ordained Greek archimandrites to the episcopacy and thus maintained the continuance of the Genuine Orthodox Christians of Greece (GOC). In 1969, St. Metropolitan Philaret issued an official letter of recognition to the Synod of the GOC of Greece. This Synod of bishops had always maintained communion with the Russian Church Abroad until its union with Cyprian. At the recommendation of many in Greece, Fr. Gregory was advised to join with the archbishop whose name was Chrysostom II (Kiousis), because that Synod had recently experienced a split with six bishops departing from the remaining six bishops. It was believed that this schism would eventually be healed, and the Synod would be reunited again. Father Gregory did not know the details of the split, but he did know the Greeks were prone to these departures throughout their history. In March of 1996, Fr. Gregory flew to Greece and was gladly received by Archbishop Chrysostom II.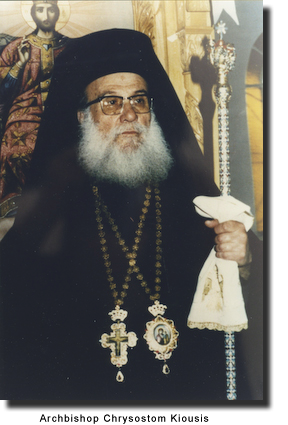 He asked Fr. Gregory to be his representative in the United States and was elevated to the rank of archimandrite. At that time the archbishop had lost his bishop in New York, Bishop Petros, and his nephew Archimandrite Paul Stratigeas. It seems that Fr. Paul was denied his request to be ordained to the episcopacy by the Greeks, so Bishop Petros took his nephew to meet Metropolitan Vitaly and asked for his ordination. This was very important to them, so they could keep all of the church property under family control. Metropolitan Vitaly ridiculously stated that if his Fr. Paul could remain in the Holy Trinity Monastery for one year, he would indeed ordain him. Bishop Petros and Fr. Paul had no hesitation to join the Russian Church Abroad, even though they were in communion with Cyprian, for they themselves had the very bad reputation of giving holy Communion to the new calendarist laypeople. As for diminishing his lifestyle by staying in a monastery for one year, this was impossible for the Archimandrite Fr. Paul. While he and his uncle were pondering how to have him ordained a bishop so that their small empire could maintain itself by serving new calendar laypeople from the Greek Archdiocese, Fr. Gregory was given the task of correcting a number of problems with the Greek parishes in the United States and Canada. As time went on, Bishop Petros died and his nephew decided to join the Cyprianites! Some agreement was reached that on a certain Sunday the two Cyprianite bishops from California would fly to New York and ordain Paul a bishop. Archbishop Chrysostom in Greece learned of this news and contacted Paul and convinced him to abandon the Cyprianites, giving him promises of his elevation. At this news Paul immediately flew to Greece a few days before the two bishops from California arrived in New York. They were left stranded with no one to meet them at the airport or to care for them. They had to fly back to California bewildered. It is not known exactly what transpired between Archbishop Chrysostom and Fr. Paul, but rumors were abounding in Greece and America that he would be consecrated a bishop in the near future. These rumors caused opposition even within the Synod of bishops itself. When Fr. Gregory heard this news he wondered whether the archbishop actually knew the ecclesiology and the actions of Fr. Paul in America. He decided therefore to write a letter to the archbishop and the Synod. In this letter Fr. Gregory described the uncanonical and Cyprianite ecclesiology of Paul of Astoria, New York. He also used Fr. Paul's own words, as reported in the newspapers, in describing his own disobedience to the traditions of the Church.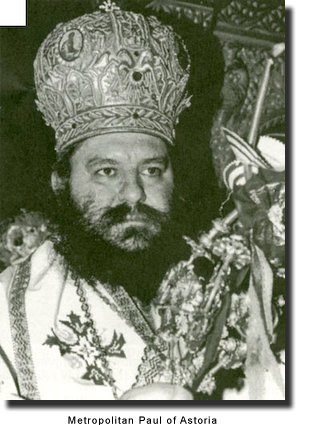 It was well known in the United States and Canada that the churches which were owned by Fr. Paul and his corporation/church ministered to the ecumenist new calendarists of the Greek Archdiocese so that their income would be maintained at a certain level to meet their expenses. It was like selling the Mysteries of the Church, something very grave and forbidden. Father Gregory very carefully documented every statement and allegation to show the archbishop and the Synod that choosing Fr. Paul would be a very great mistake and a disaster for the Church in America. One of the bishops who was vehemently opposed to the ordination of Paul was Metropolitan Kallinikos of the Twelve Islands.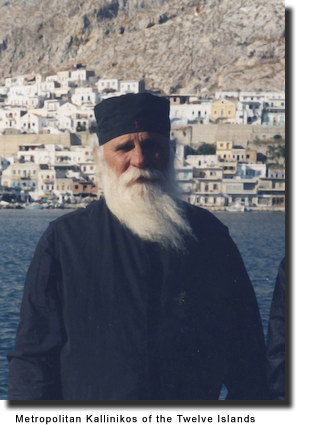 This two-page letter was reviewed by Metropolitan Kallinikos so that he could also convey to all the bishops the grave concerns of those in America. The metropolitan loved the letter so much that he had it translated into Greek and published it in his periodical (April-May-June 1997), which was distributed all over Greece and the Holy Mountain. When news of this publication came back to America, Paul was very infuriated. In his anger he had a lawyer call Fr. Gregory and threatened to sue him for slander. Realizing that everything he said in the letter was documented and true, Fr. Paul resorted to another strategy. He conceived a demonic subterfuge to forge a letter and sign Fr. Gregory's name to it, wherein he supposedly admitted to have been sexually involved with Fr. Panteleimon! He submitted this letter to the Greek Synod endeavoring to prove that Fr. Gregory was canonically unfit to be a priest. He found a willing accomplice with Bishop Gabriel who was at that time the secretary of the Russian Church Abroad in Manhattan.
Bishop Gabriel was a very liberal bishop who had no use for Fr. Gregory because of his opposition to the union with the Cyprianites. He and Fr. Paul were friends, and Fr. Paul convinced him to stamp this forgery with the seal of the Synod of the Russian Church and put it in Fr. Gregory's file at the Synod headquarters. He then requested a copy of this forgery with a written statement from Bishop Gabriel on it, that this letter is a true copy from the file of Fr. Gregory in the archives of the Russian Church Abroad.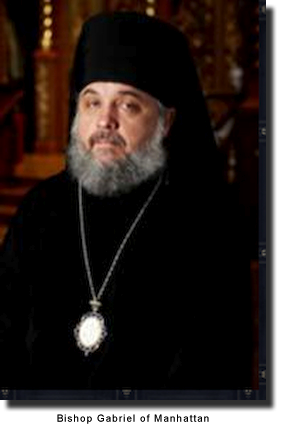 Once Fr. Paul received this copy from Bishop Gabriel, he sent it to Archbishop Chrysostom with his denunciation of Fr. Gregory. Father Paul found another accomplice in Archbishop Chrysostom who understood that Fr. Paul could not be ordained, as long as Fr. Gregory's letter remained unchallenged. When Archbishop Chrysostom received Fr. Paul's forgery, he summoned Fr. Gregory to Greece, saying to him only that he had been denounced by Fr. Paul. He gave no other details, so Fr. Gregory concluded that Fr. Paul was disputing the accuracy of his letter. Father Gregory therefore prepared himself with all the necessary documents to show that his letter about Fr. Paul was absolutely accurate. He went to Greece and appeared before the Synod, which, to his surprise, did not bring forward any questions about his letter, but only about a strange letter that was submitted by Fr. Paul, and supposedly signed by Fr. Gregory, admitting that he was sexually active with Fr. Panteleimon. When Fr. Gregory saw this letter for the first time, he declared to the Synod that this letter was indeed a forgery and that he had never written it, nor ever seen it! The archbishop declared that if this letter were true, Fr. Gregory should be deposed from the priesthood. The archbishop said that the Synod was going to decide if this letter was indeed true, but if Fr. Gregory wanted to avoid any judgment against him he would have to sign a document stating that Fr. Paul was a pillar of Orthodoxy, a beacon of faith, a true confessor, the only hope for the church in America, and that his letter about Fr. Paul was not accurate. If Fr. Gregory signed this declaration, no action would be taken against him.
Everything became very clear to Fr. Gregory now and he refused to sign anything and returned to America. While back at the monastery, Fr. Gregory had an opportunity to examine very closely this letter that was sent to Greece from Bishop Gabriel and Fr. Paul. It stated in this letter that Fr. Gregory supposedly read the letter by Fr. Menas, who was one of the accusers of Fr. Panteleimon. The forgery was dated December 1985. It said "I have read the letters of Monk Menas and the former monk Mamas...." This was a tremendous mistake by the forger, who failed to determine when Fr. Menas wrote his letter, for it was written in July of 1986! This proved that the document was indeed a forgery. When the Synod of Bishops of the Russian Church was notified that they had a forgery in their archives in Fr. Gregory's file, they sent notification to Fr. Gregory stating that after examining his file, the letter that was sent to Greece by Bishop Gabriel had disappeared and was no longer in his file! This notification was sent and signed by Archbishop Laurus.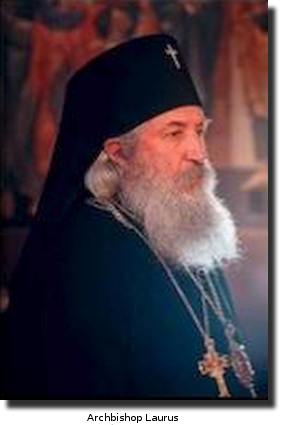 What was the conclusion of all these intrigues with the Synod under Archbishop Chrysostom? Answer: Archimandrite Gregory was notified in April 1997 that he had been cut off from their Church! Metropolitan Kallinikos of the Twelve Islands was also cut off from the Church of Archbishop Chrysostom! He remains until now by himself. Fr. Paul was ordained a bishop in Greece clandestinely by the archbishop! No notification or announcement was given in any periodical that a consecration was to take place by the archbishop and some of his fellow bishops! The opposition to Fr. Paul's ordination was so great that the archbishop feared that someone would cry out in the service "unworthy." So the ordination took place in some obscure church at midnight! Very few people were there. It was only after the ordination that the announcement was made! Every year on the anniversary of Fr. Gregory's notification that he was cut off from the Church, he would send a message to Fr./Bishop Paul, encouraging him to repent and reminding him of the prophecy of the Prophet Zacharias [5:1] who was shown the flying sickle which will cut asunder all those who commit forgery and swear falsely. No positive response was ever received from Bishop Paul. Finally, years later it seems the sickle reached him and he suffered a severe stroke which left him in a coma for many months, and then permanently paralyzed on the right side and incontinent! When he came out of his coma in the hospital, he was weeping aloud to those present, asking them to entreat Fr. Gregory to forgive him for what he did.
---
Archbishop Gregory
Dormition Skete
P.O. Box 3177
Buena Vista, CO 81211-3177
USA

Copyright 2011 - Archbishop Gregory
Last Updated: July 12, 2011